William Goodman Campbell IV: Campbell Remembered as a Mentor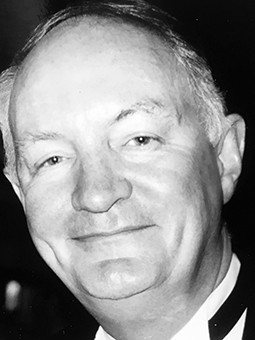 William Goodman Campbell IV
October 16, 1934 – April 13, 2019
One of the three founding partners of the Kutak Rock law firm is remembered for mentoring young partners and associates as they developed their own styles for trial practice.
William "Bill" G. Campbell IV died in Ely, Minnesota, on April 13. He was 84.
A Scottsbluff native who grew up in Gering, Campbell attended the University of Nebraska-Lincoln on a basketball schol­arship, and he went on to graduate from the George Washington University Law School in 1959.
He served as a captain in the Air Force Judge Advocate Corps, and he then worked with Robert J. Kutak as an administrative assistant to U.S. Sen. Roman Hruska.
After moving to Omaha, Campbell joined with Kutak and Harold L. Rock to form Kutak Rock & Campbell on Jan. 11, 1965. He was part of the firm's rapid growth in the 1970s, and Kutak Rock now has offices across the country, although it remains headquartered in Omaha.
A statement from Kutak Rock said Campbell is remembered as a "char­ismatic figure in the courtroom and a master at simplifying complicated problems for judges and juries." The firm said that Campbell spent his Kutak Rock years managing sophisticated securities litigation for some of the firm's largest clients until his retirement in 1992.
Bartholomew L. McLeay, a partner at Kutak Rock in Omaha, said Campbell was a consummate trial lawyer and was instrumental in the firm's national practice.
"Kutak Rock was truly one of the first national law firms," McLeay said. "Bill had grown a great reputation with several securities firms in New York, and the firm prospered as a result."
McLeay, who is a senior litigation attorney at Kutak Rock, said Campbell was an effective, big picture leader who still remained popular at the law firm.
"Practitioners and juries and those who came into contact noticed as soon as Bill came into the room," McLeay said. "He always had a smile on his face, a twinkle in his eye, and he was ready to get something ac­complished. I view him as a mentor and a friend."
Afterwards, Campbell left Omaha for Washington, D.C., where he joined Rogers & Wells as a senior partner, working with former Secretary of State William Rogers and former Secretary of Defense Caspar Weinberger. He moved to Ely, Minnesota, several years later, opening his own law office and serving local clients.
Campbell was also a member of the board of directors of the Companion Life Insurance Co. from 1991 to 2011 and the board of directors of Innowave from 1996 to 2006. Both companies are affiliates of Mutual of Omaha.
One of his daughters, Elizabeth Campbell of Fort Worth, Texas, said he loved the outdoors and enjoyed hunting and fishing.
"He always baited the hook for me," she said. "We would sometimes cook the trout we caught for dinner that night."
Elizabeth Campbell said she is blind, and she remembers her father teaching her at a young age how to use a touch-tone phone.
"He showed me some ways to be more independent," she said. "That's helped me out quite a bit now because I'm living pretty far from Omaha."
Bill Campbell was always excited when his family came to visit, she said, and he would cook for them – including always preparing breakfast for his grandchildren when they visited.
"He liked to cook good meals for us – and they were good," his daughter said. "It made him really happy to have all of us there."
The family is planning a celebration of life on Saturday from 2 to 4 p.m. in Minneapolis. Those interested can call 682-990-3826 for more informa­tion. Memorials can be made to Ducks Unlimited.
Campbell was preceded in death by his father William G. Campbell III; mother Virginia Campbell; and son-in-law Michael Brady. He is survived by his daughter Elizabeth Campbell; daughter Anne Campbell-Taylor and son-in-law Frank Taylor of Minneapolis; daughter Amy Campbell-Brady of Washington, D.C.; grandchildren Grace Taylor, Joshua Taylor, Matthew Brady and Kate Brady; sister Marcelle Wiggins of Sacramento, California; and wife Deb Campbell.
– Scott Stewart
Category:
Omaha Daily Record
The Daily Record
3323 Leavenworth Street
Omaha, Nebraska
68105-1915
United States
Tele (402) 345-1303
Fax (402) 345-2351