Virtual Community Discussion Explores Critical Race Theory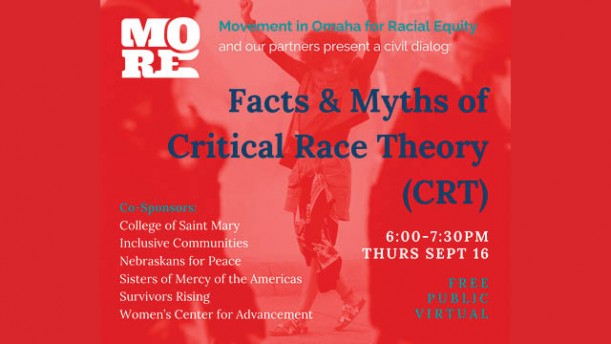 Movement in Omaha for Racial Equity will hold a virtual community conversation about critical race theory on Thursday evening.
"Facts and Myths of Critical Race Theory (CRT)" will be held in collaboration with College of Saint Mary, Inclusive Communities, Nebraskans for Peace, Sisters of Mercy of the Americas, Survivors Rising, and Women's Center for Advancement.
The event is 6 to 7:30 p.m. Thursday on Zoom. It is free and open to the public.
The conversation will feature attorney Shawntal Mallory, chief professional development officer and general counsel at Omaha for Boys and an adjunct professor at the Creighton University School of Law, and Jeannette Eileen Jones, an associate professor of history and ethnic studies at the University of Nebraska–Lincoln.
Both of the panelists have a deep understanding and commitment to CRT, according to a news release.
"Critical race theory (CRT) has been misconstrued and politicized in our state and across the country," MORE board chair A'Jamal Byndon said in the release. "It's important for us to have a civil conversation about CRT, to drill down and make sense of this framework for understanding history and society."
The event is an opportunity to learn more about CRT and discuss the implications of the framework.
"We're going to discuss this issue civilly, without devolving into polarizing debate," Byndon said. "We're going to learn from each other, build bridges, and grow as a community."
This event is planned as the first in a series focusing on structural racism through a Nebraska lens.
"While CRT has become a lightning rod for the ultra-right, it is actually a tool to help us unpack the historical issues that continue to negatively impact communities of color," Byndon said.
"Whether it's slavery, genocide, punitive immigration laws, or forced relocation, these historical traumas are part of the differential health and wellbeing outcomes based on race that we're seeing today in communities of color. CRT gives us a framework for studying and understanding the effects of pervasive systemic and institutional racism," Byndon added.
To register for the event, visit bit.ly/crtzoom.
Category:
Omaha Daily Record
The Daily Record
3323 Leavenworth Street
Omaha, Nebraska
68105-1915
United States
Tele (402) 345-1303
Fax (402) 345-2351