Updated: Crnkovich Says Retirement Not Impulsive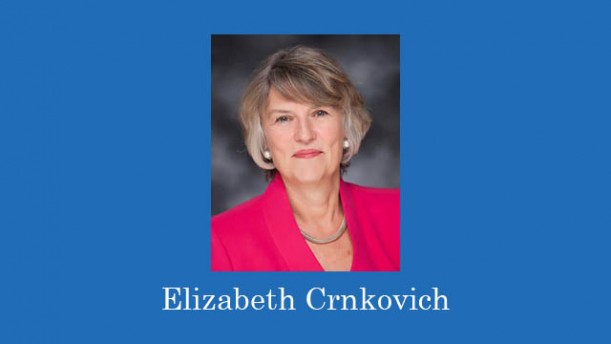 Two courtrooms at the Separate Juvenile Court of Douglas County are sitting empty after the abrupt resignation of Judge Elizabeth G. Crnkovich last Wednesday.
The Nebraska Judicial Branch announced in a news release that Crnkovich was stepping down that same day.
Crnkovich gave her resignation to Gov. Pete Ricketts on Sept. 6, and the letter was marked received last Tuesday, according to a copy obtained by The Daily Record.
"It has been my honor and privilege to serve the children and families in Douglas County for almost 25 years! I am forever grateful for having had such a wonderful opportunity," she wrote in the three-sentence letter.
She did not offer a reason for her resignation in the letter. The Omaha World-Herald reported last Wednesday, citing two unnamed sources, that Crnkovich was told that she was about to face a formal judicial ethics inquiry.
Nebraska law prohibits a judge who received official notice of a complaint from the Commission on Judicial Qualifications from retiring and collecting a pension until the commission or the Nebraska Supreme Court resolves the matter under investigation.
Crnkovich turned 65 in March, and she said she has been contemplating her retirement for a while. In an interview last Thursday with The Daily Record, she said the decision was made because of a combination of reasons, including her health and "frankly being tired." Crnkovich said that she concluded "it was just time."
Asked if she wanted to address the claims regarding an ethics inquiry, Crnkvoich declined.
 "I do not," she responded. "I am not interested in that. I am interested in the work that I have done for 25 years. I'm interested in the thousands of kids and families that I have worked with. I have strived to always improve and to look at innovative ways of serving these kids."
Crnkovich said that she doesn't know who provided information to the World-Herald, but she did acknowledge that a complaint was made by Omaha state Sen. Ernie Chambers. That complaint followed her decision in March to remove three attorneys from a hearing in a child abandonment case and prohibit the attorneys from remaining in the gallery.
"I knew there was a complaint, because Ernie Chambers always lets everyone know when he's going to complain," Crnkovich said. "It's been a hard last couple of years with my friend in Lincoln, and I think it is better to avoid that battle in the future."
Crnkovich said the timing of her retirement may have appeared impulsive, but she said it followed consultation with her colleagues in the court and a discussion of how to reassign her active cases.
"It has been something that I have been thinking about since March," Crnkovich said. "The last thing I wanted to do was leave my colleagues in the lurch because I feel very supportive of the courts."
The court is down two of its six judges due to the recent retirement of Judge Douglas F. Johnson, who stepped down Aug. 31.
"A long, drawn out process actually isn't helpful because the Judicial Resources Commission won't even meet and open up the judgeship until the judge is gone," Crnkovich said. "I consulted with my colleagues, who are all very supportive of me."
The Judicial Resources Commission met last Tuesday to declare a vacancy on the Douglas County Juvenile Court for Johnson's spot on the bench. Applications are due Thursday, Sept. 26. A public hearing of the Judicial Nominating Commission for Separate Juvenile Court Judge in Douglas County will be held Thursday, Oct. 17. The commission reviews candidates and makes its recommendation to the governor.
The replacement process for Crnkovich will begin once the Judicial Resources Commission schedules a meeting to consider whether to declare a vacancy. An application period would then be declared, with a subsequent public hearing of the nominating commission to select candidates to advance to the governor.
Crnkovich's tenure as a judge was controversial, but she has both champions and detractors.
On the one hand, Chambers had a longstanding feud with the judge, whom he called "one of the cruelest people" in floor debate on Jan. 31, 2014. He held up the expansion of the juvenile court for years to protest Crnkovich's presence on the court.
On the other hand, Crnkovich was one of the Women's Center for Advancement's Tribute to Women honorees in 2012. In publicity materials for the award, the WCA recognized her "extraordinary concern for the well-being of our community's youth."
Douglas County residents voted to retain Crnkovich, albeit by a closer margin than many judges. She was last retained in 2016 with 62.8% voter approval. In 2018, about two-fifths of the attorneys who responded to the Nebraska State Bar Association's biennial survey said they felt Crnkovich should not be retained. She earned low marks – a 2.08 out of 5, or a "deficient" score – for her judicial temperament and demeanor.
Asked about her temperament, she said juvenile court judges are dealing with extremely intimate situations involving parents and children. Everyone involved has strong feelings and different views of what is required.
"I am very direct," Crnkovich said. "I have always expected the professionals to do their jobs."
Crnkovich was appointed to the Separate Juvenile Court of Doug-las County in 1995. Prior to that, she spent a decade in the Douglas County Attorney's Office. She is a 1983 graduate of the Creighton University School of a Law.
Acting as a judge, Crnkovich has found herself at odds with the state and bureaucratic red tape.
"I think that's been a challenge for all juvenile court judges," Crnkovich said. "There is an inherent conflict, if you will, between the judiciary and the executive branch in terms of child welfare and juvenile justice, and that's just that the role of the judge is to monitor the Department of Health and Human Services and the executive branch and make sure that the right services are in the right place at the right time. So that has always been a source of frustration."
She said she believes child welfare services don't focus as much as they once did on establishing relationships with families, and she finds that to be troubling.
"We've removed the relationships," Crnkovich said. "We have case managers and service brokers. We don't have social workers anymore. And families have three times as many people in their lives, but not a single one to build a relationship with."
Judges can require agencies to do certain actions, and judges can also share what they're learning in trainings and other situations where they're not sitting on the bench, she said, noting it's not always a contentious relationship.
"I always laugh. It's kind of a love-hate," Crnkovich said. "We support each other and know each other, but that includes each other's faults and challenges."
Crnkovich spearheaded several innovative court programs during her tenure, including the voluntary Douglas County Truancy Diversion Court in 2010 and, in conjunction with the Learning Community of Douglas and Sarpy Counties, the Greater Omaha Attendance and Learning Centers, or Goals Center, in 2011.
She also worked with the Nebraska Resource Project for Vulnerable Young Children to launch the Family Involved Rehabilitation and Services Track, or First Court, in 2017. After two years, she said the results of that program have been encouraging.
"We've been trying to put it together in a way that still, of course, meets all the requirements of due process, but where it can be replicated as well," Crnkovich said. "What we have discovered through this progress is really of a more collaborative vein."
Crnkovich said she gets letters and other feedback from people whose lives she has touched. She said she's even officiated weddings for some of those families.
"That's a legacy," she said. "I am not saying by any means perfection, there is no such thing. But I also pride myself by not simply being a body on a bench calling balls and strikes, but really communicating to people. I think that's what's important."
Crnkovich said she does not plan to practice law, but will remain in Omaha. She has a vacation planned, but expects to stay involved in the community.
Ultimately, Crnkovich said you shouldn't worry about critics, because it will become part of your decision-making.
"You can't be worried about what people are going to say about you," Crnkovich said.
Category:
Omaha Daily Record
The Daily Record
3323 Leavenworth Street
Omaha, Nebraska
68105-1915
United States
Tele (402) 345-1303
Fax (402) 345-2351