Through COVID-19 Crisis, Nebraska's State Courts Have Offered Essential Services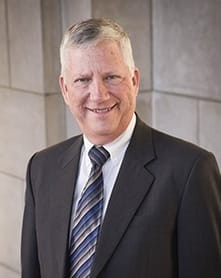 Nebraska State Bar Foundation
It is important that we as Nebraskans take a moment to recognize that our collective need for access to the courts has continued despite the coronavirus and the closing of so many businesses and activities.
While an effort has been made to delay less important legal matters, our Nebraska courts have remained open and available to safeguard the elderly from fraud and abuse, address child neglect allegations, process domestic violence protection requests, and address juvenile justice issues. These types of court cases, which involve our most vulnerable residents, have continued to be heard statewide throughout the COVID-19 crisis.
In order to keep courts operational, appropriate social distancing practices and health measures have been put in place at courthouses to protect both the health of those involved, as well as their constitutional and other legal rights.
Judges and judicial branch personnel, along with attorneys throughout our legal community, are working tirelessly to keep our courts open and provide necessary services.
They are frontline professionals working under stressful circumstances to safeguard access to justice while protecting the public's health and safety and everyone's rights.
For this, we extend our sincere appreciation to those on the front lines in court and probation offices. A special thank you to the judges, court staff, interpreters, security officers, and probation officers who have stepped up to serve Nebraska communities in innovative ways. 
Throughout the COVID-19 crisis, Nebraska's state courts have offered, and will continue to offer, essential services to communities. Although the judicial branch is often referred to as the "forgotten" branch of government, we in the legal community are thankful to the public for understanding its value and importance to our democracy.
Our Nebraska court system took a leadership role by hosting a national summit in May 2019 on pandemic planning – nearly a year before the coronavirus struck.
Now, our Nebraska trial court judges continue taking a leadership role while working diligently to respond to ever-evolving conditions presented by COVID-19.
Our legal community, our judges, and our court staff are among the unsung heroes maintaining our justice system in these trying times. They are essential. They are actively protecting the constitutional rights of Nebraskans on a daily basis as safely as possible.
Steven E. Guenzel is president of the Nebraska State Bar Foundation. He is a second generation attorney at Johnson Flodman Guenzel & Widger in Lincoln.
Category:
Omaha Daily Record
The Daily Record
3323 Leavenworth Street
Omaha, Nebraska
68105-1915
United States
Tele (402) 345-1303
Fax (402) 345-2351