Shavers Tells NDCA About Importance Of Inclusiveness in Legal Profession
Members of the Nebraska Defense Counsel Association recently had a lesson from the University of Nebraska College of Law's acting dean about the importance of diversity and how gender and other factors can shape a person's experiences within the legal profession. 
Professor Anna Shavers, who is the Cline Williams Professor of Citizenship Law and associate dean for diversity and inclusion, said diversity is increasingly a fact because of changing demographics but that inclusion is an active choice.
Law schools have looked at how to build culture competency, so future lawyers are able to deliver services to their clients.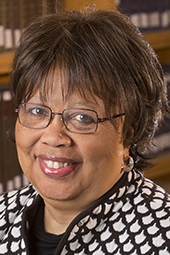 "Can you think about and approach all people in the same way?" Shavers said. "What we're focusing on is the ability to interact effectively with people from all races and different cultures."
The American Bar Association has put forward model rules for professional conduct pertaining to diversity and inclusion, Shavers said. Nebraska hasn't adopted those rules, and some states have rejected them because of concerns over free expression.
"Some have objected that a lawyer could be found in violation of ethical rules because they have voiced opposition, for example, to sexual orientation," Shavers said. "If you look at the rules that have been adopted for judges here in Nebraska, they already have some restraints like this, but we don't quite have it yet for lawyers."
The University of Nebraska College of Law has adopted learning outcomes for diversity and inclusion, saying graduates should be able to work with clients and other professionals from diverse backgrounds.
Shavers said studies show that legal practitioners have different perspectives depending on their background. Most female attorneys, for example, say they have been mistaken as low-level employees, but almost no male attorneys report such an experience.
Perceptions also vary greatly when it comes to compensation and unwanted sexual advances, even within the same law firm.
"Do you believe that in your firm you would find these kinds of differences?" Shavers asked. "It might not be your intention, direct discrimination, but when you're seeing numbers like this, something is going on and you have to figure out what is going on."
Implicit bias can be a factor, where subconscious preferences and misperceptions shape actions instead of direct discrimination.
"The difference here might be a woman walking down the street sees two young black males approaching her and holds her purse closer to her body," Shavers said. "It's not just white people that might have this reaction. It might be African-American people who also have this reaction."
Shavers said everyone has some sort of implicit, hidden bias, and it's worth understanding how those can shape decision. She said researchers have identified "mind bugs" that give rise to bias.
Harvard University has designed a test to help identify your implicit biases. Find those online at implicit.harvard.edu.
Category:
Omaha Daily Record
The Daily Record
3323 Leavenworth Street
Omaha, Nebraska
68105-1915
United States
Tele (402) 345-1303
Fax (402) 345-2351