Senate Report Details Broad Failures Around Jan. 6 Attack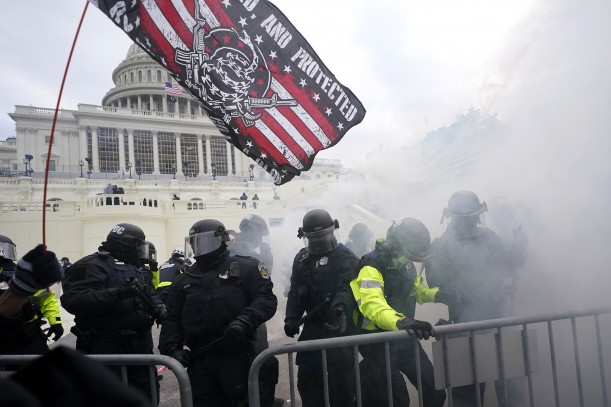 A Senate investigation of the Jan. 6 insurrection at the U.S. Capitol found a broad intelligence breakdown across multiple agencies, along with widespread law enforcement and military failures that led to the violent attack.
There were clear warnings and tips that supporters of former President Donald Trump, including right-wing extremist groups, were planning to "storm the Capitol" with weapons and possibly infiltrate the tunnel system underneath the building. But that intelligence never made it up to top leadership.
The result was chaos. A Senate report released Tuesday details how officers on the front lines suffered chemical burns, brain injuries and broken bones, among other injuries, after fighting the attackers, who quickly overwhelmed them and broke into the building. Officers told the Senate investigators they were left with no leadership or direction when command systems broke down.
The Senate report is the first — and could be the last — bipartisan review of how hundreds of Trump supporters were able to push violently past security lines and break into the Capitol that day, interrupting the certification of Joe Biden's presidential election victory. It recommends immediate changes to give the Capitol Police chief more authority, to provide better planning and equipment for law enforcement and to streamline intelligence gathering among federal agencies.
As a bipartisan effort, the report does not delve into the root causes of the attack, including Trump's role as he called for his supporters to "fight like hell" to overturn his election defeat that day. It does not call the attack an insurrection, even though it was. And it comes two weeks after Republicans blocked a bipartisan, independent commission that would investigate the insurrection more broadly.
"This report is important in the fact that it allows us to make some immediate improvements to the security situation here in the Capitol," said Michigan Sen. Gary Peters, the chairman of the Homeland Security and Governmental Affairs Committee, which conducted the probe along with the Senate Rules Committee. "But it does not answer some of the bigger questions that we need to face, quite frankly, as a country and as a democracy."
Senate Majority Leader Chuck Schumer said Tuesday the findings show even greater need for a bipartisan commission to investigate the root causes of the attack, referring to Trump's unfounded claims about the 2020 election.
"As the 'big lie' continues to spread, as faith in our elections continues to decline, it is crucial — crucial — that we establish a trusted, independent record of what transpired," Schumer said.
But Senate Republican leader Mitch McConnell, who led the blockade against such a commission, said he's confident the ongoing reviews by lawmakers and law enforcement will be sufficient.
Category:
Omaha Daily Record
The Daily Record
3323 Leavenworth Street
Omaha, Nebraska
68105-1915
United States
Tele (402) 345-1303
Fax (402) 345-2351