Ruth Bader Ginsburg to Visit Omaha Next Year To Celebrate 19th Amendment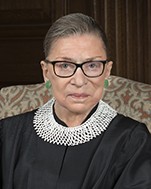 The anticipated agenda for a conference planned next year in Omaha might as well consist of only three letters: R.B.G.
U.S. Supreme Court Justice Ruth Bader Ginsburg will join lawyers and judges from across the region for the 2020 Eighth Circuit Judicial Conference.
The conference, scheduled for Aug. 5 through Aug. 7, will celebrate the centennial of the 19th Amendment, which gave women the right to vote across the U.S.
Senior U.S. District Court Judge Laurie Smith Camp said the conference is already generating a lot of interest despite being nearly a year away. Registration materials are expected to be made available later this fall, she said.
The conference will feature national acclaimed authors tracing the history of women's suffrage, including the ratification of the 19th Amendment. They will also provide content about Ginsburg's landmark challenges to sex discrimination, and Ginsburg herself will conduct a fireside chat.
"Themes of diversity, inclusion, and representative government will resonate throughout the conference as we hear from scholars, lawyers, judges, and courageous citizens who have championed the cause of equal protection," according to a "save the date" distributed by the court.
Featured speakers already lined up for the conference include:
• Erwin Chemerinsky, dean of the University of California, Berkeley, School of Law.
• Kevin Washburn, dean of the University of Iowa College of Law.
• Sherrilyn Ifill, president and director-counsel of the NAACP Legal Defense and Educational Fund Inc.
• Camilla Taylor, director of constitutional litigation at Lambda Legal.
• Celina Stewart, director of advocacy and litigation at the League of Women Voters.
• Jane Miller, chief operating officer of Gallup.
• Kurt Andersen, host of Public Radio International's "Studio 360" pop culture program.
• Mark Cady, chief justice of the Iowa Supreme Court.
• Diane Humetewa, judge for the U.S. District Court for the District of Arizona.
• Joe Levin, co-founder of the Southern Poverty Law Center, and his former client, Sharron Frontiero Cohen, from the landmark sex discrimination case Frontiero v. Richardson.
The conference will provide an opportunity for participants to mingle with the speakers and panelists in a relaxed setting, according to the court.
"Attendees can anticipate up to 12 hours of CLE, and immeasurable CLI (Continuing Lifetime Inspiration)," the court said. "We hope to see you in Omaha!"
Category:
Omaha Daily Record
The Daily Record
3323 Leavenworth Street
Omaha, Nebraska
68105-1915
United States
Tele (402) 345-1303
Fax (402) 345-2351