Is Requiring Voter ID a Violation of the 14th Amendment?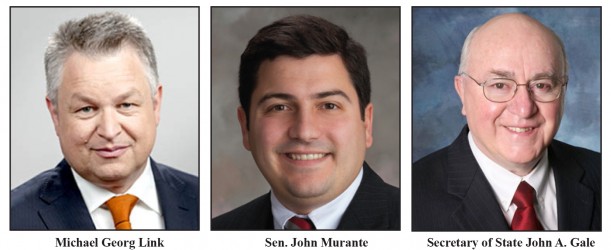 Following the general election in 2016, Nebraska State Sen. John Murante became concerned when he heard about the possibility of voter fraud.
"Both parties had expressed concern in the integrity of the electoral process. Many believed that their vote doesn't matter; that it doesn't count."
His response, on January 5, was to introduce LR1CA, Constitutional Amendment to Require Voter ID, the purposes of which would be to "combat voter fraud, preserve the relative power of each eligible citizen's right to vote, modernize the election infrastructure of the state and insure the integrity of the elections of the state so as to preserve the public confidence in the legitimacy of the elected government."
To do this, each voter will have to "present identification that contains a photograph or digital image of the voter prior to being able to vote."
"I want to give voters the choice on whether or not ID should be shown," he said.
Does voter fraud exist in Nebraska?
Murante cited a pending case from Dawson County, Neb., in which two Somali-speaking men are accused of voting "more than once" on Election Day, Nov. 8. According to News Channel Nebraska, the men handed in "early votes at the end of October and then showed up at the polls in person to vote again. … Poll workers discovered the attempted double vote, although the men insisted they did not vote twice." Both men were ticketed, but pled not guilty. They were scheduled to stand trial in April. If convicted "each faces up to two years in prison and a $10,000 fine."
On the national level, President Donald Trump has alleged that "millions" voted illegally, thus costing him the popular vote. He vowed to launch a "major investigation into voter fraud, including those registered to vote in two states, those who are illegal … even, those registered to vote who are dead (and many for a long time.) Depending on the results," he tweeted, "we will strengthen up voting procedures!"
According to Nebraska TV, "In Florida, a volunteer was arrested for completing partially blank mail-in ballots. In a separate case, a woman was arrested for filling out fake voter registration forms." In Virginia, a man was also arrested for doing this and in Iowa, a woman tried to vote for President Trump twice.
Michael Georg Link of the Organization for Security and Cooperation in Europe's (OSCE) Office for Democratic Institutions and Human Rights wrote an opinion piece for CNN on January 26, the day after Trump tweeted, stating that his office "sent a mission to the United States to follow preparations and the campaign ahead of the elections. On Election Day, we were joined by a delegation from the OSCE's Parliamentary Assembly to observe voting.
"Our 298 observers followed electoral activities in 1,059 polling stations in 33 states – observing opening procedures, voting, counting and the tabulation of results" and "our observers did not report any direct evidence of election fraud."
Nebraska Secretary of State John A. Gale said that "voter fraud cases … have mostly been well-meaning relatives filling out an early ballot after a person passes away, and the system has caught that fraud."
For Murante "even one illegal vote is too many, because it cancels out the vote of an American citizen."
In the past, voter ID laws have been introduced in Nebraska, but they haven't gotten very far because, as Murante said, organizations such as the ACLU claim that "voter ID laws are unconstitutional."
Nebraskans for Civic Reform (NCR), a non-partisan, non-profit organization "dedicated to strengthened civic education and community engagement, veterans' job readiness and making elections more accessible," also strongly opposes LR1CA and "voter ID in all forms because it creates barriers to voter accessibility. For voters who don't have the proper ID, it takes time and money to obtain one, just to exercise their constitutional right to vote," said Bri McLarty, director of voting rights at NCR. "No one should have to jump through these hoops just to vote."
"And as for the 14th amendment, specifically the equal protection clause, past court cases have evaluated voter IDs under the strict scrutiny test. First, establishing that the right to vote is fundamental and then applying the strict scrutiny analysis, i.e. is there a compelling government interest and is the law narrowly tailored to achieve that.
"Some courts have held the state does have an interest in securing elections and preventing voter fraud, however many have found that a voter photo ID law is not narrowly tailored and instead has a negative impact on voters, including minority voters, and prevents them from exercising their right to vote."
And this is specifically why Murante is proposing not a voter ID law, but a constitutional amendment.
"No one has introduced voter ID as a constitutional amendment before," he said. "It will give our legislature the authority to pass the laws, then mitigate them constitutionally."
For NCR, this, too, is problematic.
"In Nebraska, our state Constitution reads that elections shall be free and there shall be no hindrance or impediment," McLarty said. "For rural voters, access to a DMV is limited. About one-third of voters don't have access to a daily DMV. Some counties only have access to a DMV once a month. For senior citizens who may not drive and who live on a limited income, the $26.50 to get a valid form of ID is a huge imposition.
"Past voter ID proposals, like LB111 in 2015, required that the address on the ID match the address on the voter rolls. For students who have out of state licenses (but the legal right to vote here), voters who move frequently, a voter ID law would make them pay $26.50 to vote, even when the license they have is valid."
Murante said that there are signs that LR1CA will be filibustered. However, he claims that the majority of his colleagues think it's a "good idea." He just wants to give the voter a chance to decide.
What happens after that vote? How do those who don't have ID get one? How much will it cost? He said that the Legislature has to pass a law that doesn't violate anyone's rights, then what happens next is undecided. Murante said all of those questions will be dealt with if voters approve the amendment.
McLarty said that LR1CA is simply too vague and could be a financial burden on the state.
"The current proposal doesn't outline which IDs will count or whether a free ID would be provided to individuals. Past bills have provided free IDs to individuals that are indigent. When Indiana did this more individuals than expected applied – ballooning the budget from $700,000 to over $1 million.
"Providing free IDs is more than just losing the $26.50. In Nebraska, the DMV is what is called a 'cash fund agency,' meaning a significant portion of their funds come from user fees [like the $26.50 for the license]. By providing free IDs we lose the funds to cover the cost of materials, staff time, etc. and these funds would need to be reappropriated from the general fund [income taxes, sales taxes, etc.].
"Furthermore, Nebraska guarantees that all elections shall be free, meaning for a voter ID law to be constitutional, all IDs would need to be free. IDs in Nebraska need to be renewed every five years. Based on the numbers from the last five years, we estimate the state would lose approximately $37.7 million in lost revenue. Not to mention the funding that would be necessary to educate voters and retrain election officials and poll workers."
On March 2, several members of the Anti-Defamation League Civil Rights Committee (ADL-CRC) went to Lincoln to voice opposition to LR1CA, saying that "it threatens to weaken the fundamental voting right enshrined beautifully in Nebraska's Constitution, disproportionately burdens segments of the electorate and invites the defamation of certain voters."
Furthermore, "the assertion that this amendment is needed to combat voter fraud should only be based upon very substantial evidence to this committee, because this committee is representing to the public that they have been given such evidence and perceive a viable threat to our democracy.
"The singular, initial justification for proposing this resolution is 'to combat voter fraud.' Nebraska's own Secretary of State, John Gale, has testified on multiple occasions that Nebraska's elections are secure and no such voter fraud has been detected.
"This testimony is backed by an investigation conducted by the Washington Post concluding that over a 14 year period and out of more than a billion ballots cast, there have only been 31 credible allegations. That is an average of two incidents per year. Nationally. Two. None of which occurred in Nebraska. Nebraska has held fair and free elections for 150 years without adding the burden of a photo ID.
"It is impossible to turn away from the fact that the unsubstantiated argument for voter fraud drums up fear and division and this, in turn, creates a self-fulfilling prophesy of a lack of confidence in our democracy that this committee should not exacerbate without clear evidence."
LR1CA has been "indefinitely postponed." However, Murante himself has made it his priority resolution. Postponed, yes. Abandoned, no. Perhaps it will be up to the people. In any case, the 14th Amendment will be in play.
Category:
Omaha Daily Record
The Daily Record
3323 Leavenworth Street
Omaha, Nebraska
68105-1915
United States
Tele (402) 345-1303
Fax (402) 345-2351