NePA, OBA Seminar Looks at Including Transgender Employees
Members of the Omaha Bar Association and Nebraska Paralegals Association came together to explore the rights and identities of transgender workers at a recent continuing education seminar.
Ryan Sallans and Joan Watke Stacy presented at "Unity in Diversity: Working Together to Achieve Success" on June 5 at the Scott Conference Center in Omaha.
A Personal Story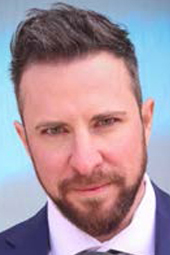 Sallans was born in Aurora, Nebraska, in 1979. His father was a chiropractor, and his mother was a homemaker.
Doctors said he was born a girl, and his family raised him as such. However, Sallans said that he remembers having a sense of being male around age 2 ½ to 3.
"My mom had put me in a bright hot pink bikini," Sallans said. "I looked at my dad and his brother in their trunks. I looked at my mom and my sister in their swimming suits. I proceeded to take the top part off so I could have swimming trunks like my dad and my brother. It was my first memory of looking out into the world and seeing gender, and then trying to adjust how I presented myself to align with what felt right for me inside."
As a young child, he idolized Superman and hated having long hair and being called a princess.
"In our society, we allow little girls to be tomboys," he said. "If I would have been born assigned male, I don't know that I would be here today, because our society is so attacking toward people assigned male that present or have feminine characteristics."
Transgender women of color, in particular, are subject to much higher rates of violence in society, mixing bigotry toward trans people with racism, Sallans said.
Around age 7, Sallans said he became depressed and started to think about suicide. He felt lost.
"I had this sudden realization that my body was female," he said. "Suddenly, dread overtook every core within myself."
He was constantly teased throughout grade school. When he graduated, all he wanted was to get out of Aurora. He went to the University of Nebraska-Lincoln, and decided at age 18 to be more feminine. He developed anorexia, which eventually forced him to go into therapy.
At age 25, he found a book that showed photos of transgender men, and he immediately realized that that was how he identifies.
Sallans began exploring how to transition. He juggled a long-term relationship with a girlfriend, and he struggled as he came out to his family. They didn't accept him at first, but eventually they came to accept him and even change their attitudes toward LBGT people.
"People can change," he said. "I do have hope for this nation and for change in many areas."
Sallans is now a nationally renowned speaker. He shared his personal story as a transgender man in an effort to provide insight for the session attendees.
"Sharing stories saves lives," Sallans said. "Sharing stories allows all of us to be able to connect with one another, because while we all have different identities, we are still emotional human beings, and those emotions are what connect us, and the challenges are what make us relatable to one another."
A common misconception that Sallans said he hears is people are seeking attention or rebelling.
"What's happening right now is what happens when you have access to education," Sallans said. "When we see this expansion around language when we look at sexuality and gender, it is because people are receiving education and understanding more about who they are."
Before the internet, information was much more restricted for young people – limited to textbooks chosen by a school board or materials at a public library. Sallans said it's now easier to find facts and be exposed to other experiences and perspectives.
Sallans explained how gender is socially constructed, based on norms in a particular culture, and relies on assumptions and stereotypes. How a person communicates their gender – their gender expression – doesn't dictate their sexual orientation, Sallans said.
"You can have highly feminine women who identify as lesbian. You can have uber-masculine guys who identify as gay," he said. "When we talk about trans identities, though, people get even further confused about what's the difference between being trans and your sexual orientation."
The word "transgender" can be used as an umbrella term, Sallans said. It can mean a person whose gender identity is different from their sex assigned at birth, or it could refer to a person whose gender expression doesn't correlate with norms set by society.
"You cannot change a person's gender identity, just like you cannot change their sexual orientation," Sallans said.
A Parent's Perspective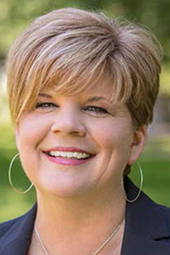 Stacy, an Omaha attorney with Sena Polk & Stacy LLP, shared the story of her daughter who just graduated from high school.
"In looking at her, it might surprise you that, when she was born, the doctors made a mistake," Stacy said. "They marked the male box on the birth certificate. They didn't ask her; she wouldn't have been able to respond. And we didn't know any better. We assumed that they were right, so we gave her a boy name and we took her home."
Eventually, though, the child began to talk. At age 5, she told her mom "I have a girl brain" and a "girl heart and soul" when she was reminded of her boy parts.
Stacy said her dad was dyslexic at a time when that wasn't widely understood. Adults didn't listen to him growing up, because they thought they knew better. Talking to her child one day, Stacy said it occurred to her that it was similar to her dad's experience and that she couldn't say what was in someone else's heart and soul.
At that moment, though, the word "transgender" wasn't widely known. The pediatrician said for years that her child was just "going through a phase."
"When she was 6, she told me that she wasn't going to make any more wishes on her birthday cake," Stacy said.
"'Why?'" she questioned.
"'Because every time, I wish for the same thing and it never happens.'"
After being asked not to come back for third grade at a parochial school, they moved and joined in the Westside school district. They were willing to learn alongside the family and offer assistance.
"Nobody comes to this conversation with all the answers," Stacy said. "We made a lot of mistakes along the way. And as you traverse this thing that is allyship, you are going to make mistakes, and that is OK.
"We just need to expand our minds enough to let people's stories, and to let their experiences, in and to know that we don't know everything."
In the workplace, conversations and education need to be ongoing. Expertise simply doesn't happen overnight, and it's not something that can be addressed once.
Polices are also needed. Stacy said privacy and confidential considerations should be reviewed for transgender employees. Situations will need to be handled on a case-by-case basis and could change over time to meet their needs.
Companies should honor names and pronouns. Stacy said that firms should look at intake forms to avoid boxes for male or female. In the medical field, Stacy said forms could leave a blank for gender and then ask legal sex for submitting insurance claims.
Access to restrooms and other related facilities should also be covered in a policy.
"There isn't any 'One size fits all' in terms of a policy of what that transitioning employee might want or need, and it might change over time," Stacy said.
Other policies to review for trans inclusivity could include workplace assignments and duties, record keeping, and sick and medical leave. Making sure that benefits are trans inclusive can make a big difference, too, and often does not cost much to implement, if it costs anything.
Stacy said younger employees do pay attention to inclusivity as well as affinity groups and other indications of support when they choose where to work, and not being proactive can become a barrier to retaining quality talent.
Stacy is a co-founder of Omaha-based Academy LGBTQ, which offers corporate diversity training, speaking and a two-day parent academy program. Find more about Academy LGBTQ at academylgbtq.com.
Find more information about Sallans, including his forthcoming book "Transforming Manhood" at ryansallans.com.
Omaha Daily Record
The Daily Record
3323 Leavenworth Street
Omaha, Nebraska
68105-1915
United States
Tele (402) 345-1303
Fax (402) 345-2351
 
Upcoming Events
08/15/2022 -

9:30am

to

11:30am

08/15/2022 -

11:30am

to

12:30pm

08/15/2022 -

3:30pm

to

5:30pm

08/15/2022 -

5:30pm

to

6:30pm