Nebraska Supreme Court Justices Share Best Practices With Appellate Attorneys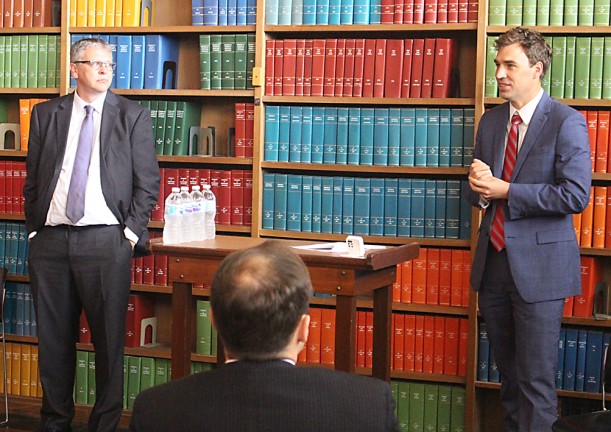 Lincoln – Attorneys who practice appellate law gathered in the law library in the State Capitol to hear directly from justices of the Nebraska Supreme Court about the best way to approach writing briefs, oral arguments and filing motions in state appellate courts.
Nebraska Supreme Court Justices Jonathan J. Papik and John R. Freudenberg shared lessons they learned as new justices during the Nebraska Bar Association's annual Opening of Term Seminar Monday.
Papik warned attorneys to be mindful of mistakes related to procedural rules that carry serious consequences, such as not assigning an error you want to argue.
"You're not going to get a review of your issue if you don't comply with that rule," he said.
Attorneys must also follow Rule 9E when they raise a constitutional challenge. That rule says appropriate notice must be given and failing to do so will mean the issue isn't considered on merits.
Freudenberg said it's worth remembering that justices first read briefs without reviewing the record, so they aren't familiar with the details of the case. Oral argument is helpful to frame the issue for the justices, who will go into consultation for the first time immediately after the hearing.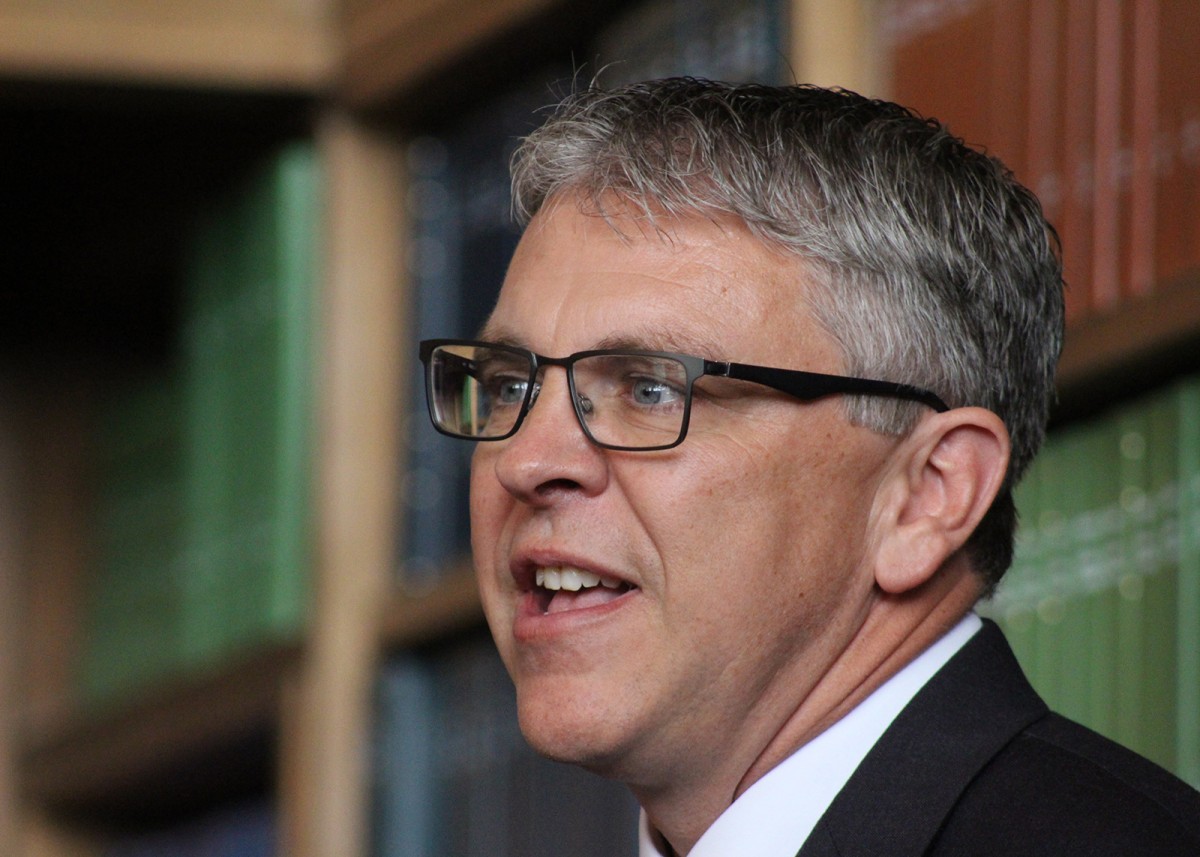 "I believe that oral arguments are helpful," Freudenberg said.
Some cases can be won at oral argument, Papik said, because of how they shape the discussion in consultation. It can also affect the path the court might take in its decision if the outcome is already clear to justices from the briefs.
"Oral argument can be helpful to sorting out which path ultimately gets taken," Papik said.
Both Papik and Freudenberg are not far removed from practicing law as attorneys. They discussed pet peeves and what they expected from the job when they were first appointed. They also reiterated traditional advice – such as following the rules for the court and be mindful of how time is being used in oral argument – for appellate court practice.
Papik joined the court in May 2018, and Freudenberg took the oath in August 2018. Papik has been an attorney in private practice at Cline Williams Wright Johnson & Oldfather in Omaha. Freudenberg spent about a year as a Lancaster County judge and had previously worked as the criminal bureau chief in the Nebraska Attorney General's Office.
The justices also discussed amicus briefs, which aren't particularly common in Nebraska but can sometimes make a difference.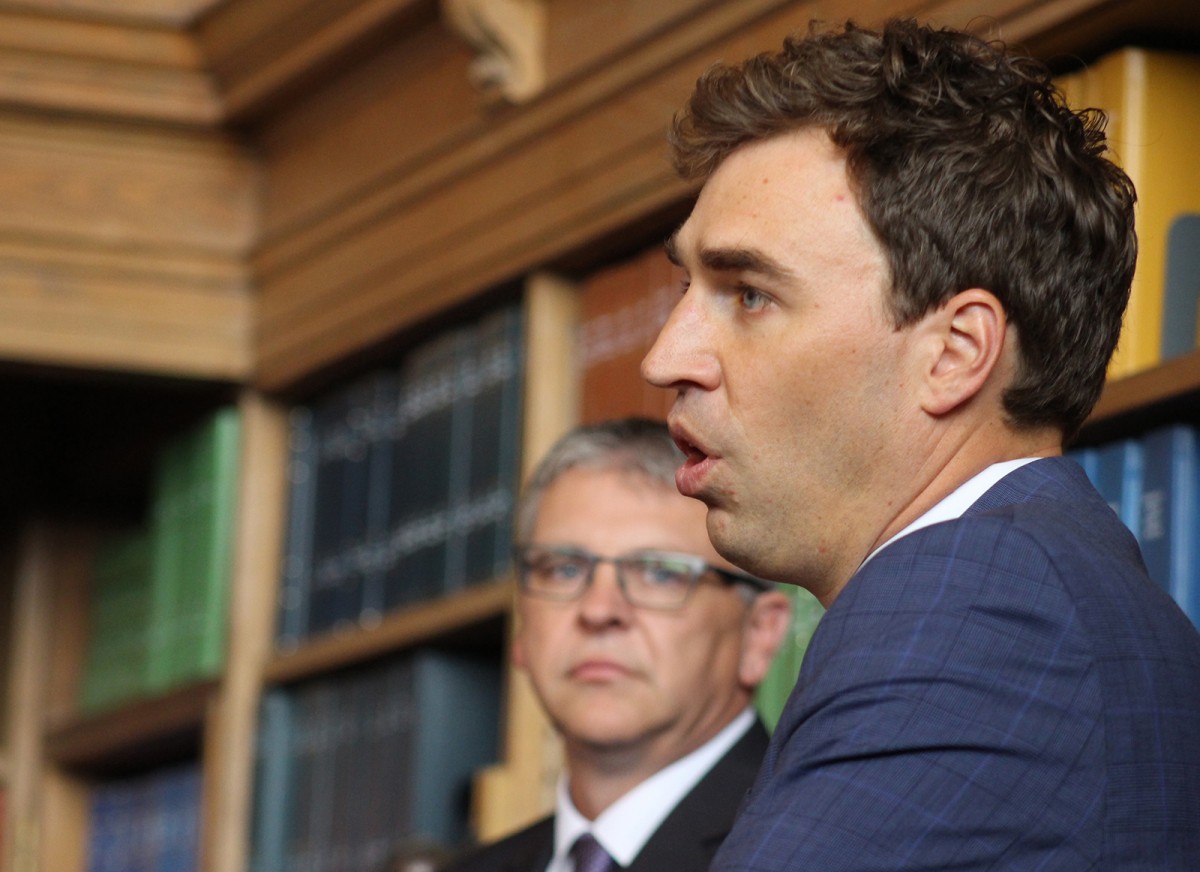 "Amicus briefs can be helpful to the extent that they bring a perspective that is unique and different than what we're going to read in the briefs of the parties," Papik said. "There are cases where there's an angle that the parties either aren't presenting or don't have an incentive to present, and an amicus can be helpful to getting the law right, so I think that is great and something that we want to encourage."
The justices also recommended that attorneys interested in becoming judges pay close attention to those who they select as references. For judicial appointments, the nominating commission asks for 15 references: five each who are judges, personal references and attorneys familiar with the applicant's abilities. Freudenberg said he's seen two candidates pick the same judge, which invites the judge to say which candidate is more qualified. It's also common for references not to respond to the commission's request at all.
"You need to pick people who, one, will actually send it back in; two, actually think you might be a good judge or at least qualified enough to get through committee; and three, who will actually take the time to adequately fill it out," Freudenberg said.
Papik encouraged future judicial applicants to seek out a lot of advice about matters of strategy
"I got very definitive but contrary advice from people," Papik said. "What I took from that is that you probably want to talk to a variety of people that have been through the process so that you can appropriately filter what you're told, because I think there are different views on different things, and if you only talk to one person and they know how it worked for them, it may not work that way for you."
Attendees of the seminar also heard from Justice William Cassel, who discussed what practitioners should know about the differences between arguments to the Nebraska Supreme Court and the Court of Appeals, and Chief Justice Michael Heavican, who discussed the role court facilities play in the appellate process and how to use them most effectively.
Heavican also gave a preview of the new session and provided a brief tour of the court's facilities.
To find upcoming Nebraska Bar Association CLE events, visit nebar.com/events/event_list.asp.
Category:
Omaha Daily Record
The Daily Record
3323 Leavenworth Street
Omaha, Nebraska
68105-1915
United States
Tele (402) 345-1303
Fax (402) 345-2351