Nebraska Appleseed Welcomes Staff Attorney Sarah Maresh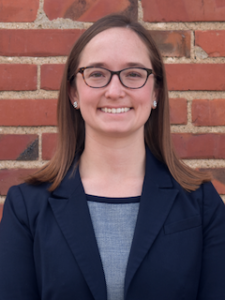 Sarah Maresh joined the team at Nebraska Appleseed as the staff attorney for Health Care Access Program. She is a two-time Husker alumni, graduating from the University of Nebraska – Lincoln with her undergraduate degree with highest distinction in Sociology and International Studies and her J.D. from the University of Nebraska College of Law with highest distinction. Sarah is a member of the Order of the Coif, a law graduate honor society.  Before joining Nebraska Appleseed, Sarah practiced law at a private law firm in Omaha for almost four years.
During her undergraduate career, Maresh was a health care and legislative intern at Nebraska Appleseed, which had a lasting impact on Maresh. 
As a native Nebraskan, Maresh is excited to use her law degree to help improve and advocate for the communities she loves. "I'm proud to be part of an organization that works so hard to ensure that all Nebraskans have the opportunity to enjoy the good life," she said.
You can reach Maresh at smaresh@neappleseed.org
Category:
Omaha Daily Record
The Daily Record
3323 Leavenworth Street
Omaha, Nebraska
68105-1915
United States
Tele (402) 345-1303
Fax (402) 345-2351