Murante Selected for Aspen Institute Fellowship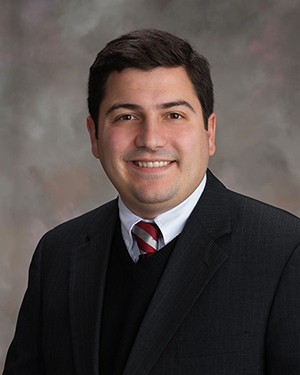 Nebraska State Treasurer John Murante is part of the most recent class of up-and-coming politicians selected for a bipartisan fellowship program.
Murante was selected July 19 to participate in the Aspen Institute's Rodel Fellowship in Public Leadership, along with 23 other officials from across the country.
The program stated that it looks for elected officeholders between ages 25 and 50 who have been "identified by the program's leadership as America's emerging political leaders with reputations for intellect, thoughtfulness, and a commitment to civil dialogue."
"It is a great honor to be selected to take part in this prestigious fellowship," Murante said.
Murante said he looks forward to having meaningful discussions with elected officials who have different perspectives.
"We have to understand that people who disagree with us politically aren't bad people," Murante said. "We should seek out people with different points of view and understand their take."
Compromise is possible on a variety of issues, such as the basic operation of government. He said his office's efforts to distribute unclaimed property and promote the use of college saving accounts are both nonpartisan functions.
"If things break down into partisan gridlock, we're not going to get done what needs to be done," Murante said. "It is so important for Nebraskans to have a seat at these tables of leadership from across the country so that we can impart our values on legislatures from around the country."
The 24-month fellowship program consists of three weekend seminars, generally held in Aspen, Colorado. According to the Aspen Institute, the program is focused on educational and leadership training, not politics. The hope is exposure to a variety of philosophies, viewpoints and strategies will improve the quality of problem-solving in the states and local communities.
Former U.S. Rep. Mickey Edwards, an Oklahoma Republican, is the program's director. He said that he is "delighted" to have Murante participate in the fellowship. Edwards said Murante was nominated by several previous fellows.
"Our program is committed to bringing together the best young political leaders in America for opportunities to delve more deeply into the values and principles that underline our democratic system of government," Edwards said in a statement.
Former Nebraska State Treasurer Shane Osborn, a Republican, participated in the fellowship in 2007. Recently elected Lincoln Mayor Leirion Gaylor Baird, a Democrat, participated in 2016.
Murante, a Republican, was selected state treasurer in 2018. He previously served as a state senator representing the Gretna-based 49th Legislative District. He was elected in 2012 and again in 2016.
As a state senator, he served as the chair of the National Conference of State Legislatures Elections and Redistricting Standing Committee and on the advisory committee to the U.S. Election Assistance Commission.
Murante is 37 years old and is a graduate of Skutt Catholic High School and the University of Nebraska-Lincoln. He is married and has one daughter. He's also the former president of Big Fred's Pizza in Omaha. He is a member of St. Patrick's Catholic Church, the Knights of Columbus, Gretna Optimists and serves on the board of Partnership 4 Kids.
Category:
Omaha Daily Record
The Daily Record
3323 Leavenworth Street
Omaha, Nebraska
68105-1915
United States
Tele (402) 345-1303
Fax (402) 345-2351