Michael J. Mooney: Mooney Admired for Golf Swing, Legacy As Gifted Trial Attorney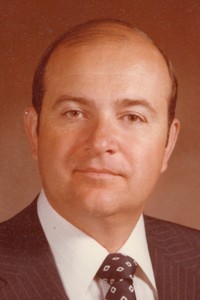 Michael J. Mooney
August 15, 1936 – May 10, 2019
The smoothness of attorney Mike Mooney's golf swing won admirers when he hit the links.
His smooth demeanor won him admir­ers when he appeared before judges in the courtroom.
His by-the-book approach to the prac­tice of law also smoothed out complex cas­es with hazards that might have ensnared more laissez faire trial attorneys. 
Michael J. Mooney died at his home on May 10. He was 82. He left behind many friends in the Omaha legal com­munity.
He graduated from Omaha Cathedral High School and Creighton University before earning his J.D. in 1963 from the Creighton University School of Law.
Mooney went on to practice with several Omaha law firms for about 56 years, retiring from the profession late last year. He mentored many younger attorneys, including Nebraska Appeals Court Judge Michael W. Pirtle.
"Mike was one of my first mentors as a lawyer," said Pirtle, who worked with Mooney at McCormack Cooney Mooney & Hillman in the 1980s and again at Gross & Welch in the 2000s.
At one point, Mooney was a private pilot, and Pirtle said they went up flying a few times.
"He did everything by the book as a pilot," Pirtle said. "And I would say he did everything by the book as a lawyer as well."
Pirtle said he would often stay in the office in the afternoon with his feet up on Mooney's desk just talking with him. He said Mooney was always willing to listen and to help him solve a problem.
"I would stay there until he threw me out," Pirtle said.
Gene Hillman, an attorney at Hillman Forman Childers & McCormack who was Mooney's law partner for two decades, said Mooney was "an absolutely extraordinary man."
"He had a smooth courtroom demeanor – a quick wit that could either be humorous or biting as the situation required," Hillman said "He was a good friend of mine for a long, long time, and I'm going to miss him."
Hillman said Omaha attorneys, and Nebraska trial attorneys more broadly, regarded Mooney as one of the best in the profession.
Mooney's son Robert is an attorney at Sodoro Daly Shomaker and prac­ticed with his father for about a little over a decade.
"He was an incredibly gifted and true trial lawyer," Robert A. Mooney said of his father. "He was very thoughtful in how he managed cases. He enjoyed the process of thinking through cases and deciding on a strategy, and he really enjoyed being in the courtroom as well."
He said his father was proud to have been a past president of both the Nebraska Association of Trial Attorneys (1981) and the Nebraska Defense Counsel Association (1995), representing both the plaintiff and defense groups.
"He earned the respect of his peers in both of those circles in the trial attorney world," Robert Mooney said. "He was very, very proud that he was president of both of those organizations."
The elder Mooney was also a fellow in the American College of Trial Lawyers, a former chairman of the Nebraska State Bar Association's House of Delegates and a fellow of the Nebraska State Bar Foundation. The Nebraska Defense Counsel Association also presented him its first Master Emeritus Award in May 2011.
His son said he always had a lot of friends in the legal community, and that camaraderie was part of his reasons to become a lawyer.
"Dad was a guy who loved life," he said. "Even though he was a very busy and successful lawyer, he made time for family and things outside the practice of law that gave him joy."
Mooney learned how to coach soccer at a time when it wasn't prevalent in the Omaha area so that he could spend time coaching his children's parochial school teams.
Hillman, who went fishing regularly with Mooney, said his friend's golf game stayed strong even as he began to slow down.
"He did have one helluva good golf swing," Hillman said. "It was the same old swing. Not as much energy in it, but still smooth."
Pirtle echoed Hillman's admiration of Mooney's golf swing, which no one else could replicate.
"I think what I always admired most was he had the absolutely most beautiful golf swing I have ever seen," Pirtle said. "He had just a very smooth, easy golf swing, and he was a very good golfer."
Mooney is survived by his wife of 57 years, Sue; his three children and their spouses, Mike (Samantha) Mooney, Bob (Sarah) Mooney, Greg (Theresa) Mooney; and his grandchildren, Erin, Kailin, Megan, Ryan, Sean, Ainsley, Finn and Piper; and numerous in-laws, nieces and nephews. He was preceded in death by his son Christopher and his mother Elizabeth, stepfather Robert Fuller and father Joseph.
A funeral Mass was held last Thursday at Christ the King Catholic Church. Memorials are directed to the prostate cancer nonprofit Septembeard or to the Siena/Francis House shelter.
– Scott Stewart
Category:
Omaha Daily Record
The Daily Record
3323 Leavenworth Street
Omaha, Nebraska
68105-1915
United States
Tele (402) 345-1303
Fax (402) 345-2351