Legg Miller, SEC Talks About Small Business Access to Capital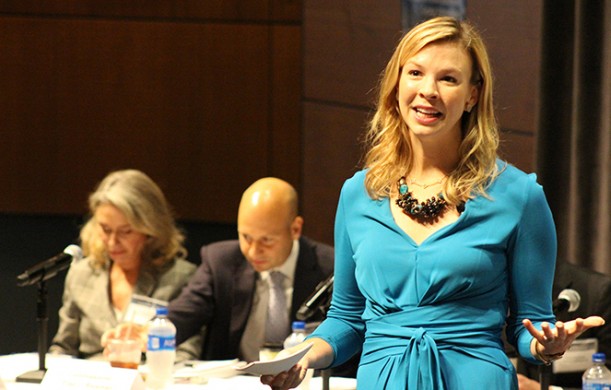 The U.S. Securities and Exchange Commission shared stories and invited input from the Omaha community last week.
The visit revolved around a public forum that shared Silicon Prairie tech startup success stories and a discussion of how to make capital available for small businesses across the country.
"I'm particularly pleased that we're in the heart of the Silicon Prairie," SEC Chairman Jay Clayton told the Omaha crowd.
The SEC brought its 38th Annual Government-Business Forum on Small Business Capital Formation to Omaha last Wednesday at the invitation of Creighton University's Heider College of Business. The forum was open to the public and broadcast online.
"The forum is an unique event where members of the private and public sectors converge to identify and highlight issues that they experience in accessing capital and investing in small business and then formulate solutions upon which we can take actions," said Martha Legg Miller, who is the SEC advocate for small business capital formation. "When we began planning the 2019 forum, we wanted to venture outside D.C. to take in fresh perspectives on capital formation."
The SEC was familiar with the Maha Discovery conference, formerly Big Omaha, and that was a draw for the annual forum.
"We knew that this region was defining what it means to be successful entrepreneur with Omaha's own Silicon Prairie personality," Legg Miller said. "That intentional build-it-yourself mentality really reflects the region's pioneer roots."
Omaha inventors created the first boxed cake mix, microwave TV dinners, Cliff Notes and the Reuben sandwich, she said.
"This is a region where ideas take root and innovators figure out how to scale and to grow their companies," Legg Miller said. "In a world where technology is used to bridge geographical boundaries, entrepreneurship is still largely a local phenomenon, occurring in early stages through networks of founders, funders and talents who operate in proximity through networks and relationships of trust, experience and accountability."
Commissioner Robert Jackson Jr. said small business is personal. He said his wife runs a small business, and he remembers how she struggled to get a bank loan.
"The fact that the economy is doing well doesn't mean that capital is available for every business," Jackson said.
Commissioner Hester Peirce said there's a competing narrative about the origin of the Reuben – that it came from New York City.
"The dueling sandwich narrative is really fitting for a discussion of capital formulation because often we see competition for capital with New York winning out in that competition, when in reality the capital could have been put to very good use here in Omaha," Peirce said.
The Omaha forum was the first public appearance by SEC Commissioner Allison Herren Lee, a securities law attorney appointed by President Donald Trump who was sworn into office on July 8.
Lee joked that the commission has a majority vote in favor of the Reuben sandwich.
"The Silicon Prairie represents a success in increasing access to capital for tech start-ups," Lee said. "I really love a panel that is built around success stories."
Category:
Omaha Daily Record
The Daily Record
3323 Leavenworth Street
Omaha, Nebraska
68105-1915
Tele (402) 345-1303
Fax (402) 345-2351