LAW DAY 2020: 'Your Vote, Your Voice, Our Democracy' Commemorates 19th Amendment at 100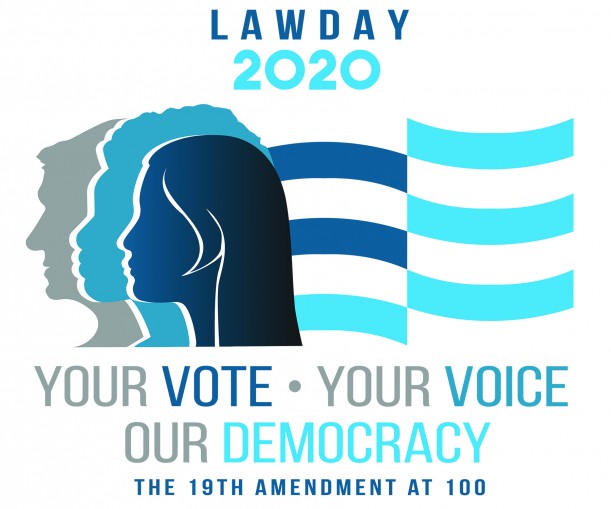 The 19th Amendment is extremely straightforward: "The right of citizens of the United States to vote shall not be denied or abridged by the United States or by any State on account of sex. Congress shall have power to enforce this article by appropriate legislation."
Yet the struggle to achieve the landmark legislation – ratified a century ago this summer – was fraught with obstacles still familiar to many Americans today.
Suffrage is an important milestone in the journey toward social justice, but it's not the final destination. If it was, there would have been no need for the federal Voting Rights Act of 1965. If it was, debates about voter identification, early voting and similar topics would be less partisan, less acrimonious and less consequential. If it was, the doubts in our democracy exposed by allegations of election interference, hanging chads and voter fraud would be less worrying.
As important as the 19th Amendment has been, barriers remain for women seeking office (see page 7). This year's Law Day public service award winners – Nebraska Appleseed (see page 3) and the League of Women Voters (see page 5) – work to increase social justice, whether through advocacy and direct action or through education and voter registration.
Jill Robb Ackerman, a partner at Baird Holm LLP, says she believes women have progressed, but she questions whether it's "deep-seated paranoia or antiquated social bias" that leads people in general to trust men more than women. She believes that's why we see fewer women in law, politics and business.
"I have listened to arguments that women become 'distracted by family' or other 'feminine diversions' that cause them to fall behind in those fields.  But I am not buying that," she said in an email. "Lack of trust means fewer opportunities afforded to women."
John M. Gerrard, chief U.S. district judge for the District of Nebraska, says the 19th Amendment is an example of democratic social change – secured by suffragists who refused to accept their disenfranchisement. That history is "proof that it doesn't always matter who's on the Supreme Court, or who's in the White House, or even who's in the Congress, when citizens work together to create a popular movement demanding recognition and respect for their rights," he said in an email.
Senior U.S. District Judge Laurie Smith Camp says Law Day is an opportunity to "recommit ourselves to the noble act of standing up for the rights of others."
"That kind of nobility has run in the blood of Omaha lawyers since John Webster and Andrew Poppleton stood up for the rights of an impoverished band of Ponca Indians in 1879, and it continues to be demonstrated by Omaha lawyers daily," Smith Camp said in an email.
The COVID-19 pandemic has put a spotlight on often invisible segments of the workforce, and how we value the lives of fellow citizens. Consider the difference in circumstances among meatpackers required to work despite outbreaks; grocery store and other retail workers asked to step up to be "heroes" – perhaps with a small bonus, if they're lucky; or exhausted health care workers, who watch public policy decisions from their unenviable positions along the front lines.
Their lives don't resemble those of attorneys, or journalists, who are working from home, drinking cocktails over Zoom, picking up take-out and spending Sunday wondering if the line at Trader Joe's or Jo-Ann's is worth the wait.
Nor do their lives resemble those serving sentences in jails or prisons, or living in nursing homes, or laying in a hospital bed hoping that a ventilator lets them breath again.
 History teaches us that change is possible, but only through the determination to make a difference in the world.
Omaha Daily Record
The Daily Record
3323 Leavenworth Street
Omaha, Nebraska
68105-1915
United States
Tele (402) 345-1303
Fax (402) 345-2351