Kelly Spent Two Decades on Juvenile Court Bench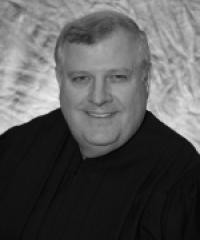 Christopher Kelly, a juvenile court judge in Douglas County, recently retired after 20 years on the bench and 40 years in the service of the law.
Kelly, a jovial man with crisp white hair, was situated in a large, dark blue office on the top floor of the Douglas County Courthouse. A massive impressionist painting of San Francisco that he bought at an art shop in Westroads Mall adorned the south wall of his chambers.
After graduating from the Creighton University School of Law in 1979, he began his career in 1980 as a deputy county attorney prosecuting juvenile cases. He switched to adult felony prosecutions in 1985, and in 1987 entered private practice in Omaha, where he remained until 2000.
During his legal career, Kelly found himself involved in juvenile justice time and time again.
"I remember thinking, 'I'm doing too much social work, I'm a lawyer dog-gone-it!'" Kelly told The Daily Record in an interview.
As time and the cut-and-dry legal work went on, Kelly missed the social work aspects of working with youth. He knew that he wanted to make a difference through his work, and he thought that working with young people was one of the most promising fields in which he could make a tangible difference.
"I kept finding myself being drawn back to juvenile court because it just seemed that I could make a bigger difference there," Kelly said. "The kids are more amenable to being put in a position to make change and wanting to better their situation, and they weren't so ensconced in the criminal system that they still have hopes and dreams."
Kelly was appointed to the Separate Juvenile Court of Douglas County in 2000, and he became its preceding judge – for the first time – in 2001.
Kelly took his extensive knowledge of juvenile and criminal law and applied it to how he presides over a court. He said that he hopes to have left behind a legacy of fairness, but also one of kindness and empathy.
"Certainly, I'd like to be fair, but I would also hope that there was something of a warmth about me," Kelly said. "I hope people look and say, 'He did the best he could with each case that appeared in front of him.'"
Kelly was preceding judge again in 2006, 2011 and 2016. He also chaired the Juvenile Court Collaboration Council in 2016 and was a past president of the Nebraska Separate Juvenile Judges Association.
He was also president of Omaha Chapter of American Inns of Court in 2008, co-lead judge of the Omaha Model Court from 2006 to 2010 and on the Nebraska State Bar Association Executive Council from 1999 to 2005.
In retirement, Kelly plans to travel and spend more time with his family, including at his lake house in central Minnesota.
"I'll be kind of redefining myself as an individual and not as a professional, but I'm a little bit apprehensive about it because I don't know what that final definition looks like," Kelly said. "You kind of define your whole persona by what you do for a living."
Category:
Omaha Daily Record
The Daily Record
3323 Leavenworth Street
Omaha, Nebraska
68105-1915
United States
Tele (402) 345-1303
Fax (402) 345-2351