Juvenile Court Judge Douglas Johnson to Retire in August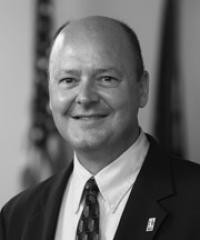 Douglas County Juvenile Court Judge Douglas F. Johnson plans to retire effective Aug. 31.
Johnson has spent a quarter century advocating for children at risk in Omaha as a judge and as a leader in the juvenile justice field in the area, as well as a volunteer in non-court capacities.
"Judge Doug Johnson is an absolutely excellent judge," said Nebraska Supreme Court Chief Justice Michael G. Heavican. "He held national positions and, most importantly, he was always searching for ways to do juvenile court better. He was always searching for ways to make the system more effective for families, and especially for children. He did all kinds of innovative things, and he will be sorely missed."
Johnson said he is retiring to spend more time with his family and pursuing personal interests. The 65-year-old said he's been eligible to retire for months, and he wants to make space for new leaders to step up.
"It is time to look for some new adventures," he said. "I will be just shy of 26 years on the bench when I retire, and so I am getting back into music, singing and guitar, and long bike rides, reading literature and not psychological reports. I'll get back to literature and Shakespeare. I definitely am going to change it up."
Johnson said he plans to teach for the National Council of Juvenile Court Judges through the fall and into next year. He will remain an adjunct professor at the Creighton University School, where he has taught since 1995.
"I'll be able to keep as busy as I want," Johnson said.
Johnson joined the bench of the Separate Juvenile Court of the 4th Judicial District in 1994. He graduated from Creighton Law in 1987, and he earned the law school's Alumni Merit Award in 2010, the same year he was recognized with the Omaha Bar Association's Robert M. Spire Public Service Award. He served as OBA president in 2016-17.
He became a fellow of the American Bar Foundation in 2015 and has also been recognized by the Nebraska Humane Society, U.S. Department of Health and Human Services, Child Savings Institute and Nebraska Supreme Court, among other organizations.
In 2005, Johnson started the state's first Family Drug Treatment Court focused on families with children from birth to age 5. The program grew into Impact From Infancy in 2014 with the support of Project Harmony.
Johnson said several problem-solving projects have transitioned to new leadership or been handed off to nonprofits, such as Impact From Infancy, and those leaders need space to make changes.
"People need to have the freedom to move forward, too," Johnson said. "I don't want to hover."
Johnson said he plans to stay in Omaha. His wife has a therapy business, and he's connected to Creighton. But he'll serve more as a resource and a volunteer instead of a leader in juvenile justice.
Johnson is a supporter of Douglas County Court-Appointed Special Advocates, working to organize an annual picnic for reunified families. He's written many articles for many years for the CASA newsletter as well.
The judge has brought his dog, Finnegan, to court every day since 2012 and has become a certified therapy animal. Johnson has also volunteered with the Safety and Health Council's Omaha Chapter and with St. Vincent de Paul Catholic Church in Omaha.
Going into retirement, Johnson said he is grateful for all the other people he has worked with over the years, including the Omaha Bar Association, his colleagues, court workers, CASA, Probation, PromiseShip, Nebraska Department of Health and Human Services, foster parents, peer-to-peer mentors and his own courthouse staff, as well as The Daily Record and the Sherwood Foundation.
Chad M. Brown, the presiding judge of the Separate Juvenile Court of Douglas County, said that Johnson was the perfect fit to be a juvenile court judge.
"Doug was a champion for kids and families," Brown said in an email. "He worked relentlessly to improve the services and outcomes for the citizens of Douglas County. His absence will be felt by this community for the foreseeable future. He will be missed by all of us who worked with him on a daily basis."
Category:
Omaha Daily Record
The Daily Record
3323 Leavenworth Street
Omaha, Nebraska
68105-1915
United States
Tele (402) 345-1303
Fax (402) 345-2351