Johnson Thanks Staff in His Retirement Letter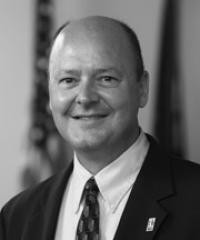 Judge Douglas F. Johnson called attention to his court staff, who routinely go "beyond the call of duty," in his retirement letter to Gov. Pete Ricketts recently.
Johnson, a judge of the Douglas County Separate Juvenile Court, is retiring effective Aug. 31. The Daily Record first reported on his retirement on July 4.
In his letter to Ricketts, Johnson said his staff has spent countless hours in court-community related service projects like the Annual Reunification Day Picnic, National Adoption Day and Through the Eyes of the Child Initiative.
"For almost 26 years I have enjoyed the privilege of presiding in the Separate Juvenile Court of Douglas County," Johnson said.
Johnson's staff includes bailiff Mary Vlcek, administrative assistant Natalie Biede and court reporter Mary Kay Bocshee.
"We have worked as a team whose primary purpose is to provide excellent services for children and families in the state's busiest jurisdiction," he said.
Johnson has served as juvenile judge in Omaha since 1994 and has led numerous judicial committees for the Nebraska Supreme Court, Separate Juvenile Judges Association and national groups.
He told The Daily Record that he plans to spend more time with his family and pursuing personal interests, such as music, bicycling and reading literature.
He plans to remain an adjunct professor at the Creighton University School of Law and remain involved with the National Council of Juvenile Court Judges as an instructor.
"It is time to look for some new adventures," Johnson said.
The Nebraska Judicial Resources Commission will call a meeting to determine whether Johnson's retirement creates a judicial vacancy on the court. The next meeting of the commission had been scheduled for Sept. 10, according to its June 5 minutes.
Category:
Omaha Daily Record
The Daily Record
3323 Leavenworth Street
Omaha, Nebraska
68105-1915
United States
Tele (402) 345-1303
Fax (402) 345-2351