Heritage Financial Puts Focus On Clients
Small Business of the Month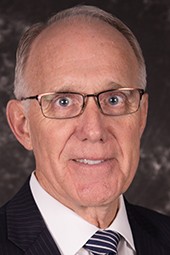 Since he began working in the financial industry over four decades ago, Tom Wilkinson has seen a virtual revolution of financial business practices. 
Heritage Financial Services LLC has adapted to an ever-changing marketplace, taking advantage of new products, services and technology to improve service for its clients.
"When I first came into the business, there were banks that only did banking and brokerage houses that only did stocks and bonds, and today many of us do it all," said Wilkinson, president of Heritage Financial.
Because of Heritage Financial's dedication to their clientele, the Greater Omaha Chamber selected the firm for its Small Business of the Month Award in August. Wilkinson said he was humbled to have his company selected.
"I hope it means that what we have tried to do over the past 18 years has made a difference," Wilkinson said.
The company customizes strategies for clients that consider their entire financial picture.
"By taking the necessary steps to position themselves for pursuing their financial goals, our clients can gain greater confidence in their future financial prosperity," Wilkinson said.
Maintaining offices in Omaha, Norfolk and Sioux Falls, South Dakota, Heritage Financial has 19 financial advisers and 13 other staff members to serve their clientele. They focus on building relationships because the better they know their clients, the more value they can bring to them.
Wilkinson said it is essential to have the proper financial plan in place to be successful.
"In today's complex world, the expertise and clear vision of a financial professional can help clients reach their financial goals," he said.
Heritage Financial can also make referrals to attorneys, accountants and other professionals to help create the most comprehensive plan possible. Each client's needs are unique, so financial advisers seek to learn about everyone's priorities during their initial meeting, Wilkinson said.
"Our job is to help families identify those things that are important and then work as hard as we can to help the families accomplish those things," Wilkinson said.
Whether that goal is setting up a college fund, purchasing a lake house or early retirement, Heritage Financial Services is here to partner with the community and plan for the bright future ahead.
In fact, Wilkinson has been at this long enough that he has seen conversations from 30 years ago come to fruition.
"I've helped families fund hundreds of college educations," Wilkinson said. "I have clients that are retired in Florida and Arkansas, California and Texas, and they're living off the money that we put together. So, the lesson was: It worked!"
For more on Heritage Financial, visit heritagefinservices.com.
Category:
Omaha Daily Record
The Daily Record
3323 Leavenworth Street
Omaha, Nebraska
68105-1915
Tele (402) 345-1303
Fax (402) 345-2351