Heritage Communities Celebrates 20 Years of Helping Older Adults Live Better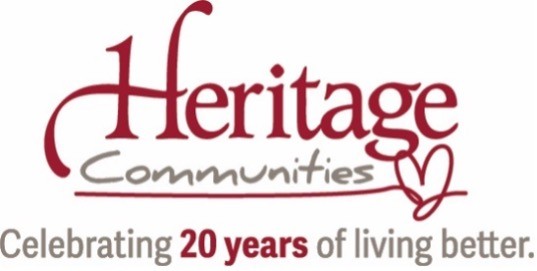 OMAHA, Nebraska (Sept. 9, 2022) – During National Assisted Living Week Sept. 11-17, Heritage Communities invites you to reconsider your perception of assisted living. Celebrating 20 years of being an industry pioneer in helping older adults live better, Heritage Communities' unique assisted living offerings prioritize the needs of residents by creating individualized experiences.
Did you know that seven out of 10 people will require assisted living care in their lifetime? In addition, when you consider that the number of people over age 85 will grow by 111% over the next two decades, the assisted living industry is expected to accommodate millions of additional residents. Since 2002, Heritage Communities has been on the forefront tailoring care, services and programming that embraces the uniqueness of each of their residents.
"Society paints a picture of older adults as not active. If you visit one of our communities, you will see the exact opposite," Heritage Communities Chief Operating Officer Amy Birkel said. "We offer all the support older adults need to remain active. At Heritage Communities, we partner with families to define what a better living situation is for each resident and create a plan to carry that out. Freedom of choice and flexibility are vital components of an active adult lifestyle."
Heritage Communities residents collaborate to design their own community events and the personal freedom to participate as much or little as they like. They form resident councils and host town halls. They are the ones who create the community's culture and charm, while the Heritage staff provides a range of personal assistance services based on a resident's need.
"This is a long-term relationship between our team and our residents, and we're committed to enriching our residents' lives and ensuring we maintain an attentiveness to the details," Birkel said. "This is their home, and we provide the services in it."
The National Center for Assisted Living declared "Joyful Moments" as this year's National Assisted Living Week theme. The week-long celebration provides a unique opportunity for residents, their loved ones, staff, volunteers and local communities to celebrate the individuals who live and work in assisted living and learn more about this sector of long-term care.
Heritage Communities include The Heritage at Legacy, Heritage Pointe and The Heritage at Sterling Ridge in Omaha and The Heritage at Fox Run in Council Bluffs. These assisted living communities encourage people to spread "Joyful Moments" in three ways during National Assisted Living Week:
Visit someone at one of the Heritage Communities: Make it a point to visit a family member or friend. This will provide you an opportunity to connect with a loved one or friend and become more familiar with an assisted living community. Connecting with people is a vital component in senior living. A 2020 National Academies of Sciences study showed that social isolation causes a 50% increase in the risk of dementia for older adults.
Tour a Heritage Communities assisted living location: We offer tours to help acquaint the public with our living options that include assisted living, independent living, memory care and respite care. A tour will familiarize you with the amazing things that take place daily in our assisted living communities.
Create something special for residents: Heritage Communities encourages the public to write letters or design art projects for assisted living residents. These thoughtful gestures are sure to put a smile on someone's face.
Heritage Pointe, 16811 Burdette St., will host events during National Assisted Living Week:
Wednesday: Block party with a band at 2 p.m.
The Heritage at Sterling Ridge, 1111 Sterling Ridge Drive, also will have events next week.
Wednesday: Wedding theme with cake, mints and champagne that will feature resident and team member wedding photos.
Thursday: County fair from 11 a.m. to 1:30 p.m. with miniature horses and food trucks.
All Heritage Communities share a single mission: To create the senior living experience you want to call home. Heritage Communities connects seniors to a community that matches their lifestyle, tastes and needs. Heritage Communities offers 14 vibrant independent living locations throughout the Midwest and Southwest with assisted living, independent living and memory care. It's all in place to put a smile on your face. That's what living better feels like. You can learn more about Heritage Communities at www.heritage-communities.com.
Category:
Omaha Daily Record
The Daily Record
222 South 72nd Street, Suite 302
Omaha, Nebraska
68114
United States
Tele (402) 345-1303
Fax (402) 345-2351