Gov. Ricketts Takes New Approach for Fourth Economic Development Director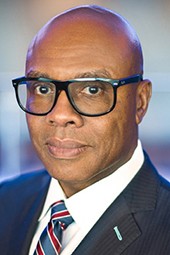 Nebraska Gov. Pete Ricketts is taking a different approach with his fourth appointment for state economic development director.
Ricketts has chosen a Lincoln businessman with extensive experience in business administration and corporate governance to lead the state's efforts to attract investment, projects and talent at the Nebraska Department of Economic Development.
Tony Goins was appointed to the $200,000 position last week and he will take the reins Oct. 7.
Current DED Director Dave Rippe will step down on Aug. 9, and Dan Curran, deputy director of programs at the department, will serve as the interim director.
"I am thrilled to have Tony's executive experience and entrepreneurial drive at the helm of the Department of Economic Development," Ricketts said. "Tony understands what it takes to build organizations and recruit new investments to the state. With his talent and experience, we will continue to lead the nation in new projects, build Nebraska's brand around the world and keep bringing great job opportunities to the state for the next generation."
The opening was created when Rippe announced last month that he would leave the agency to return to Hastings to work in real estate and talent development.
Rippe had previously worked as executive director of the Hastings Economic Development Corporation and as an economic development consultant and fiscal analysist for the state government.
In choosing Goins, Ricketts is going in a different direction – opting for someone with years of business experience instead of an economic development official.
Goins is currently director of branded products for Lincoln Industries, which is the largest privately-held metal finishing company in the country. He also was previously the chief operating officer and executive vice president of The World's Foremost Bank's Cabela's Club Visa and vice president of Cabela's Retail Corp. He has been an executive at CertusBank, JPMorgan Chase, USAA and the Ford Motor Credit Co. as well as a sergeant serving in the U.S. Marine Corp.
Unlike his predecessors, Goins lacks an academic background in business. Goins did not complete his business degree program at his alma mater, the North Carolina Agricultural and Technical State University, a university spokesperson told The Daily Record.
The lack of a formal academic credential doesn't mean Goins isn't regarded as an expert in his field. In fact, Goins serves as a faculty member at the graduate school of banking at the University of Wisconsin-Madison.
Goins' three predecessors at the department, by contrast, had advanced academic credentials.
Rippe holds a Master of Business Administration from the University of Nebraska-Lincoln. Courtney Dentlinger, who left the agency in 2017 to become a lobbyist, has a law degree from the George Washington University School of Law. Ricketts' first economic development director, Brenda Hicks-Sorensen, who was let go in 2015, holds a Master of Urban Studies from the University of Wisconsin-Milwaukee.
Taylor Gage, director of strategic communication for the Governor's Office, said Ricketts was free to select whomever he wants for the position, which isn't subject to the same civil service selection criteria as other state jobs.
Choosing a candidate based on career accomplishments instead of educational credentials is within the governor's rights and, Gage said, doing so "is in keeping with industry best practice."
Many other state jobs screen candidates for an academic credential, including for the role of deputy director of the Economic Development Department. That job requires a bachelor's degree in business administration, public administration, or another appropriate field, in addition to relevant job experience, according to a job specifications listed on the Nebraska Department of Administrative Service's website.
"Our career civil service positions, including in some cases Deputy Directors, are expected to be apolitical and frequently have more specific minimum qualifications so as to ensure objective qualification criteria independent of policy or political preferences," Gage said in an email. "But even with these positions the private sector best practice, and a common practice in state government, is to accept years of experience as an objective criteria in lieu of education credentials."
Goins wouldn't have had to contend with having an application screened anyway, since Gage said he was recruited for the role.
In a news release, Goins said it is an honor to be joining the administration's team.
"From its incredible people and family-oriented communities to its great quality of life and pro-growth climate, Nebraska is positioned to attract new talent and investment from across the nation and around the globe," Goins said.  "I look forward to working with the administration and our private sector partners.  Together, we can grow our state's brand and take our business recruitment efforts to the next level."
In addition to his work at Lincoln Industries, Goins is the CEO and partner of the Capital Cigar Lounge in Lincoln and leads a consulting firm, The Business Optimizer & Partners LLC.
On his consultancy's website, Goins is described as a servant leader with a deep understanding of organizational operations and who is an expert on creating a culture of excellence.
Goins made headlines in the state last year when he climbed Mt. Kilimanjaro to raise money to build wells in Tanzania for the Waterboys charity. He reached the summit in five days.
He is also involved in the Lincoln and Omaha communities as a volunteer. Goins serves on the board of directors for Blue Cross and Blue Shield of Nebraska and Inceptia, a division of the National Student Loan Program, as well as the Lincoln Community Foundation, Lincoln Symphony Orchestra, Opera Omaha, Bank of Bennington and Bryan Health.
Category:
Omaha Daily Record
The Daily Record
3323 Leavenworth Street
Omaha, Nebraska
68105-1915
United States
Tele (402) 345-1303
Fax (402) 345-2351