Free Speech: ACLU Nebraska: Defenders of Free Speech for Everyone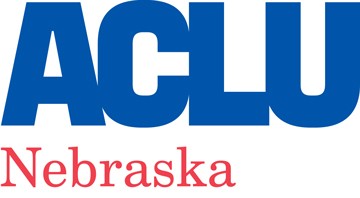 It's a subject Danielle Conrad and Amy Miller often find themselves addressing, but let's be clear: Free speech needs to be defended.
It's true, and somewhat surpris­ing, that an organization which has been around 99 years – and for more than 50 years in Nebraska – the American Civil Liberties Union (ACLU) often is more than a little understood.
Miller, the ACLU Nebraska's le­gal director, feels the con­fusion stems from people not under­standing the organization is nonparti­san. 
"They sort of wake up and take no­tice ... when we represent people whose speech we don't agree with, but we still think their speech is important," Miller said.
Miller, who has served in mul­tiple positions since joining ACLU Nebraska's staff 20 years ago, said the organization's job, broadly stat­ed, is to protect the rights given to all Americans under the Bill of Rights in the U.S. Constitution.
It is, perhaps, understand­able that some scratch their heads when the ACLU supports gay stu­dents and Nazis, removing Ten Commandments monuments from public areas, and football players who kneel during the national an­them. The same rights are affected, albeit from different areas of the po­litical spectrum. 
Conrad is a former state sena­tor who now serves as ACLU Nebraska's executive director. She understands the nature of the ACLU's work may baffle some and acknowledg­es her transi­tion from the Legislature to her current job has been a natural one.
"We have so many First Amendment rights that pop up in the Nebraska Legislature," she said.
Defending the First Amendment will remain the organization's guid­ing principle. Conrad has seen how the ACLU's work often raises the ire of people who want their rights pro­tected, but maybe not the rights of those who hold a different opinion.
To engage in this ongoing discus­sion, she has assembled a "small but mighty team" which has grown from four staffers to eight in her fifth year at the helm. In the ACLU's line of work, controversy is not viewed as an obstacle.
"It's definitely been an oppor­tunity to open up a conversation," Conrad said. 
Those conversations are not al­ways the kind that make national, or even statewide, headlines.
Take, for example, the case of Creighton resident Mike Nutting. It's unlikely readers outside a small area in north-central Nebraska have probably heard of him.
Nutting has experienced the sup­port of the ACLU first hand. He dis­agreed with the way things were go­ing in the small Knox County town during early 2014 and put his First Amendment rights in motion via the local newspaper.
"I had written letters to the edi­tor and they were critical of the city council," he said.
The city responded with a cease and desist order. Nutting contacted the ACLU, which in turn responded with letters to the city attorney and several local newspapers.
"The city backed away," Nutting said.
Later that year he was elected to the city council and another council seat changed hands. Nutting also pointed out the mayor was defeated for re-election and the city attorney and city manager resigned.
Nutting served only one term on the council – he said politics are not for him – but he has plenty of good things to say about the ACLU.
"Their folks are just terrific," Nutting said.
In that case, the First Amendment was success­fully defended.
Miller, a Nebraska na­tive, is current­ly tasked with a more high-profile case. The ACLU has been working on a pending class-action lawsuit filed in August of 2017 against the Nebraska Department of Corrections. Generally referred to as Sabata v. Nebraska Department of Corrections et al., a portion of the lawsuit was dismissed earlier this year but continues with little change.
The suit claims the state's prisons are so overcrowded that inmates cannot get medical, dental or mental health care in a timely manner. The Parole Board is also named, as the suit claims, because the system is so overcrowded, it can't move inmates along the path to parole eligibility efficiently. The ACLU hopes to im­prove Nebraska's prison system.
Nebraska's prisons, Miller said, now hold more than 5,300 people in a system that was built to hold 3,300 people – statistics supported by a recent quarterly report provided by the state.
It isn't simply overcrowding that's the problem, according to Miller. Nebraska's suicide rate for state inmates is 30 percent above the national average for state pris­ons and more than double the rate of the federal Bureau of Prisons. Those numbers are supported by a December 2016 Department of Justice report included in the filing.
According to a Yale Law School study, Nebraska has the third high­est percentage of male prisoners in solitary confinement in the nation. The combination of too many peo­ple in solitary confinement with no men­tal health care and under­staffed facili­ties is one big problem, she pointed out.
"I didn't have a sense of just how far away Nebraska was from best practices," Miller said. Neighboring states are among the best, she added. "This isn't creating something out of whole cloth. There are models Nebraska can look at to do this."
Given that most of those incarcer­ated are coming home at some point, it is important to provide the right care and it's also the legal thing to do, she said.
"To prevent recidivism and pro­tect public safety ... there are many reasons we need a healthy, func­tioning prison system," Miller said. "It's just like a snake with a tail in its mouth. People are being hurt very badly as a result."
Miller said she thinks the Legislature is willing to act to re­form the system. Meanwhile they await certification to move forward on the class-action suit. A ruling is expected this summer.
At the same time, the waiting is hard as the ACLU continues to re­ceive letters from those in solitary confinement who are waiting for that certification.
"It's hard because I think we're going to win the battle, but in the meantime, we are still taking casual­ties," Miller said.
As the ACLU waits for that next court ruling, the opportunities to do more public education continue to present themselves. The organiza­tion welcomes every chance, wheth­er it comes in a school, at a Rotary club or in a church basement, to meet Nebraskans of all political stripes,
"Rest assured the ACLU of Nebraska won't rest until the rights of all Nebraskans are respected by all Nebraskans," Conrad said.
Omaha Daily Record
The Daily Record
222 South 72nd Street, Suite 302
Omaha, Nebraska
68114
United States
Tele (402) 345-1303
Fax (402) 345-2351