Fenner Defines 'Kind' Lawyer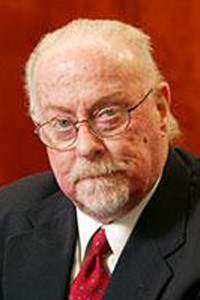 Mike Fenner was barely older than 25 when he was lured away from Washington and the Honors Program of the Justice Department to become one of five young and enthusiastic teachers recruited by Creighton's new dean, Steve Frankino, in 1972.
Frankino had great dreams for the school, including a new build­ing, and it's not hard to understand why very smart and very idealis­tic people hoped they could make a mark in legal education on The Hilltop.
And "make a mark," indeed, has been the lega­cy of Mike Fenner. Teacher, writer, constitutional practitioner, entertainer and inspirer of the Omaha Bar, which embraced him warmly, and leader of Nebraska's lawyers at a time when the state's inte­grated bar was threatened with utter deterioration.
There is a side of Fenner which is filled with amazement over new places explored, new music heard, new foods savored, and there is a side to him which reaches out as a fine lawyer to solve huge problems or undertake monumental jobs.
There is Mike Fenner, the colleague, whose booming laugh cools off a hot debate among self-assured contentious professors.
Mike never shied from a committee assignment, although academic committees can be awful, and he went out of his way to welcome new teachers who needed a word of friendship and encouragement.
People outside our profession think the words "lawyer" and "kind­ness" are exact opposites. They don't know Mike.
When our precious daughter first became ill and Mike heard of it, he sent me a note I will always treasure. He had taught Kate and had known her since childhood because our kids were not far apart in Omaha schools. In his bold handwriting he spoke of parenthood and loss and love with genuine compassion.
As the months went on, Mike repeatedly showed true warmth and was a ray of comfort.
How many others, over the years, received those deeply felt mes­sages of concern and friendship, I will never know. But as we all cel­ebrate a rich and splendid career, please know that Mike epitomizes the word: "kind.
Category:
Omaha Daily Record
The Daily Record
3323 Leavenworth Street
Omaha, Nebraska
68105-1915
United States
Tele (402) 345-1303
Fax (402) 345-2351