Civility a Common Thread Among First Amendment Freedoms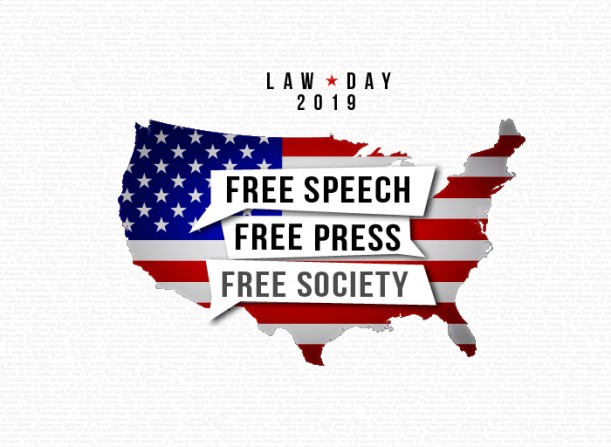 Democracy requires participation from its citizens, who in turn need to have the information and under­standing necessary to evaluate com­plex decisions. 
The First Amendment freedoms that compose this year's Law Day theme – "Free Speech, Free Press, Free Society" – are the basis of rep­resentative government and are inte­gral to the U.S. Constitution's prom­ise of the "Blessings of Liberty."
Yet the freedoms themselves aren't enough to bring together citizens to perform the business of self-governance. People disagree, and having freedom of expression doesn't guarantee anyone listens.
Patrick S. Cooper, president of the Omaha Bar Association and an attorney at Fraser Stryker, said the worst thing that can happen to a client is being left feeling like they weren't understood.
"One of the main objectives of the Omaha Bar Association is to promote civility within the legal profession," Cooper said. "People can accomplish more and achieve better results for everybody's clients if a matter is handled by people who act civilly toward one another.
Building consensus requires reaching fair compromises, and ci­vility helps holds society together.
Of course, mudslinging has al­ways been part of American poli­tics, and many generations lament the collapse of civility. That's true in 2019, where political polarization appears to have split the country, and the communities that it encom­passes, into angry, dissonant tribes.
Dave Sommers, executive di­rector of the OBA, counts himself among those who still believe in civil discourse. He said society has more serious discussions on impor­tant topics, and there's less sugar­coating of difficult issues.
"That can go to a state where there isn't any civility, where it's emotional and it's fire-throwing at each other," Sommers said. "Or you have to try even harder, you have to dig even deeper to get to that civil­ity. But ultimately if you can do that, the outcomes can be much more sig­nificant and transformative."
Civility has a strong connec­tion to the legal profession. The Nebraska State Bar Foundation chose "Championing Civility" as this year's theme for its law-related education programs, which includes the state's observance of Law Day. 
Chief U.S. District Judge John M. Gerrard, who chairs the founda­tion's law-related education com­mittee, said that legal professionals – through the use of discipline and temperament – can be leaders in the movement to restore civility.
"Disagreeing respectfully, in fact, has been the cornerstone of the American legal system since its founding and is the essence of all that we as attorneys and judges do every single day," Gerrard said in a statement.
Steven E. Guenzel, the founda­tion's president, added that fifth-graders who visit their local court­houses as part of a Law Day job shadowing program learn the role civility plays in the working rela­tionships in the legal system.
Sommers said he's seen a fray­ing of civility among attorneys over the past decade, in part because of the impact of a lawsuit that made membership in the Nebraska State Bar Association voluntary. He said some younger attorneys get too emotionally invested in their clients, which can create problems.
"There's this loss of civility when emotions flare up," Sommers said. "What happens when you become emotional in that situation is that you aren't as aware of those red lines on ethical issues related to practice and professionalism."
Richard Moberly, dean of the University of Nebraska College of Law, said civility is a job require­ment for attorneys and a vital part of professional norms. The first topic he discusses with incoming law students is professionalism and civility, and it's a value that's mod­eled in the classroom and elsewhere in the law school.
"One of our jobs in law schools is to transition someone from thinking of themselves as an individual in society to thinking of themselves as part of a profession," Moberly said.
Moberly said lawyers need to be leaders in society, and he hopes that some will make a difference
"I don't think there's a problem in society that will be solved with­out lawyers working to solve it," Moberly said. 
"We definitely need lawyers who are willing to engage problems at all levels, from the individualized problems to organizational and so­cietal problems, and do it in a way that I think is the most effective, which is by negotiating, listening, compromising and being respect­ful," Moberly added.
Being civil doesn't mean giving into beliefs you don't agree with, but it means advocating for your perspective, Moberly said.
"What we need, though, are peo­ple who are willing to rise above what's permitted and model our highest expectations," Moberly said. "That's really what I think what lawyers are trying to do."
While civility has a home in the law, it's often missing in politics.
U.S. Rep. Don Bacon, an Omaha Republican, said he's a member of the bipartisan Civility and Respect Caucus. He said issues need debat­ed, but the attitude that is brought to the debate can be harmful.
"To equate civility with no de­bate, I think, would be a mistake," Bacon said. "For me, where I go with civility is it's more about the concept that some have toward op­ponents, going after their motives, their morality, their character, and I think that that's not helpful."
Bacon said accusations of racism or anti-Semitism have been used as a "political club" and should be used only when they actually apply.
"You can rationalize rudeness and contempt in a lot of issues," Bacon said. "I think when you start showing contempt for your politi­cal opponents and their values, their character, I think that's where we're hurting ourselves."
For Shereen Bingham, a pro­fessor of communication at the University of Nebraska at Omaha, engaging effectively with someone else on a difficult subject requires trying to understand why their posi­tion makes sense to them before ex­pressing disagreement – not simply responding to their points without listening to what they're saying.
"I do think respect is key," Bingham said. "If the parties in a discussion don't both feel like they're being treated as full, le­gitimate human beings who are on equal footing as everyone else, that they're maybe being disregarded or devalued, I don't think that's a good foundation for discussing some of the controversial issues that we're dealing with today, especially with people talking past each other."
While civility generally has a positive connotation, the term can be problematic because it carries linguistic baggage, Bingham said. Appeals to civility have been used to try to "dehumanize" people to help justify silencing them throughout history, such as referring to groups of people of color as "uncivil" or "savages" so their voices could be excluded from debate.
There's no agreement about what constitutes civility, especially when different groups of people are involved. Bingham suggested a phrase like "genuine dialogue" might better express what's valued by its proponents. She said the term doesn't equate simply to politeness.
Bingham is also the director of UNO's Ombuds Services, which provides behind-the-scenes assis­tance in resolving conflicts to the university community. She said to being truly engaged in a discussion involves creating meaning together.
"Maybe you won't change and see something the other way, but you might get one insight from what you hear," Bingham said. "Most people feel better about ourselves when we act in a respectful way, an open way, and consider what other people say."
Omaha Daily Record
The Daily Record
222 South 72nd Street, Suite 302
Omaha, Nebraska
68114
United States
Tele (402) 345-1303
Fax (402) 345-2351