Blueprint Nebraska Offers Strategy for Workforce Challenge
Gretna – Say it together now: Workforce is the top issue facing Nebraska businesses.
That challenge was outlined by Bryan Slone, president of the Nebraska Chamber of Commerce and Industry, during a recent Fall Forum at Tiburon Golf Course held alongside the Sarpy County Chamber of Commerce.
"We are very much engaged on this workforce issue," Slone said.
Public officials and business leaders received a briefing from a state chamber lobbyist and then heard a discussion of Blueprint Nebraska, a proposal outlining a vision for the state to boost talent and innovation across the state.
Slone described himself as a Reagan topside tax reformer who believes that merely cutting taxes would stimulate the economy.
But if asked now whether a tax cut alone would stimulate Nebraska's economy, he said that he doesn't like his own answer.
"I don't think so," Slone said. "And it pains me to say that."
Why?
"The wall that economically we come up against is this workforce issue," Slone said. "Cutting taxes and putting more capital into the economy works only if we have the ability to continue to expand our operations."
Slone said he believes Nebraska manufacturing would balloon 10% overnight if only there were enough workers available to hire.
"We're leaving enormous amounts of state GDP on the table because we don't have the workforce," he said. "It's very hard to grow an economy and be competitive around the country, notwithstanding all the success we've had in the past, without addressing this workforce issue."
Slone said a projection from the University of Nebraska at Omaha suggests that the total number of people working in Nebraska will start a decadelong decline this year, so the problem would continue to grow if left unaddressed.
"I absolutely believe that Nebraska is in a moment that matters right now," Slone said. "The 50 states are all competing very aggressively against each other. You can already see the winners and losers starting to divide."
The successful states have an economic strategy that addresses tax reform, workforce development and attracting workers age 18 to 34, Slone said. Bringing in that younger talent base is key to building strong economies.
"If I asked you what the economic strategy in Nebraska is today, you would say…" Slone said, pausing. "There isn't one. Would you run your business without any strategy? Would you have no competitive strategy for what you were going to do versus your competitors? And yet we have an $8 billion government and no strategy."
Blueprint Nebraska advances a proposed strategy of 15 initiatives that have buy-in from Scottsbluff to Omaha, melding input together from a myriad of perspectives.
"In the end, whether we accomplish this and whether we become more competitive as a state, really depends on whether community leaders use this as sort of an open source program to move forward and we do it consistently across the state," he said.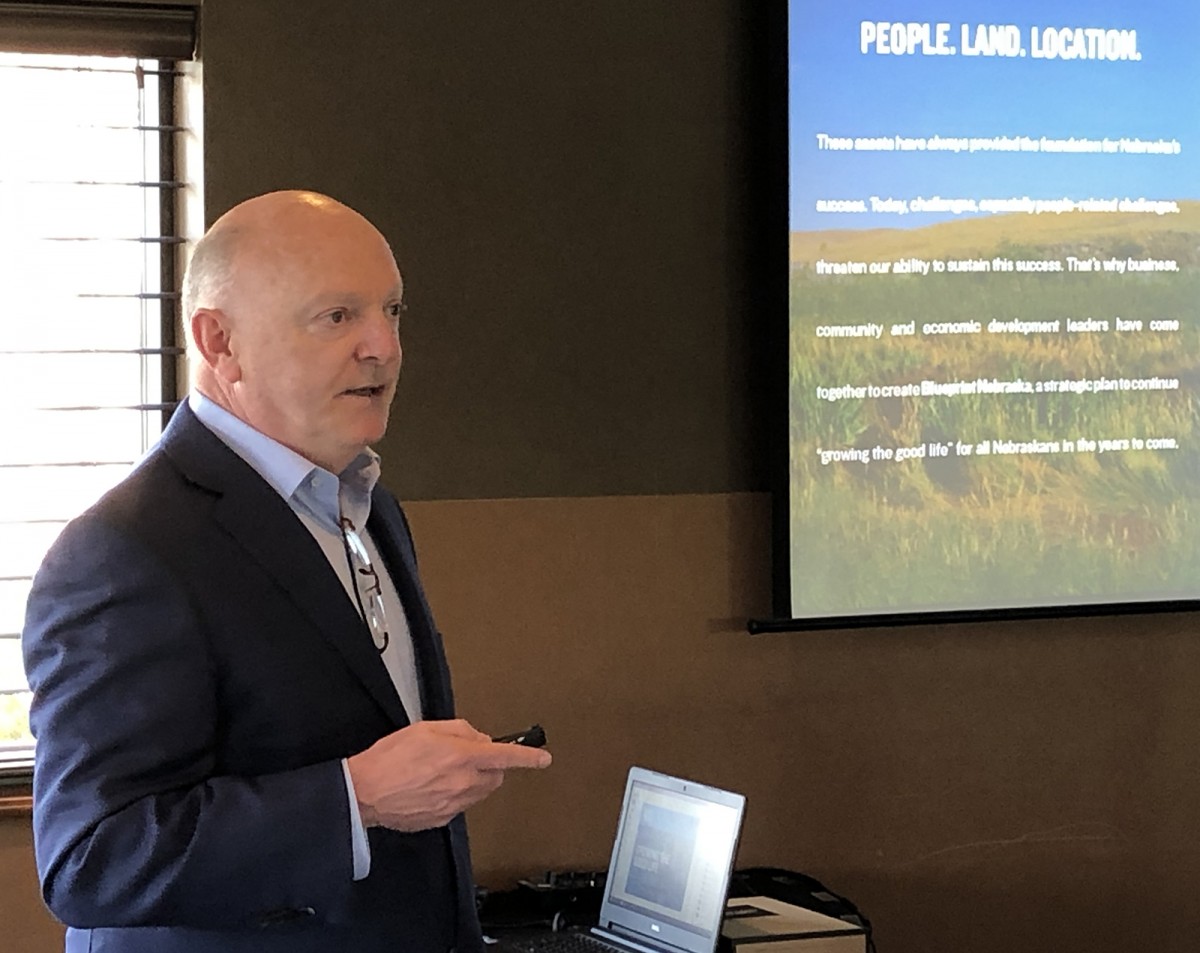 Jim Smith, executive director of Blueprint Nebraska and a former state senator from Papillion, said there's no single figure like George Norris, or Scott Frost, to bring together Nebraskans. It's up to civic leaders across the state.
"We have leaders in this effort from every corner of the state," Smith said.
Nebraska has strengths in its people, its land and its location. It has strong, resilient communities. It has a robust agricultural economy. It is centrally located and is a natural business hub with a strong transportation network.
Blueprint Nebraska sets five goals for 2030: pushing Nebraska into the top three states to live based on national rankings; creating 25,000 jobs; growing the average annual income of Nebraskans by $15,000; adding 43,000 more 18- to 34-year-old residents; and boosting research and development by $200 million annually.
The initiatives outlined by the plan are ambitious, but Smith said that Nebraska has taken on such challenges successfully.
Perhaps the most important of the initiatives is expanding rural broadband access, Smith said. It would allow for technology innovation in agriculture and manufacturing, and it would expand connectivity across the state.
"If we were able to provide rural electrification back in the '30s, we can certainly overcome (rural broadband access) in our state," Smith said.
The Nebraska Chamber plans to bring its Fall Forum series to Omaha on Tuesday, Oct. 8, from 11:30 a.m. to 1 p.m. at the Scott Conference Center, 6450 Pine St. A similar program will be offered. If you plan to attend, RSVP with Cheryl Lawson at 402-978-7922.
Another forum will also be held Thursday, Oct. 10, from 8 to 9:30 a.m. at Bellevue University's John B. Buller Building, 812 Bruin Blvd. in Bellevue. RSVP with Faith Morrison at 402-898-3000.
The forum series concludes in Lincoln with a meeting Wednesday, Oct. 23, from 7:30 to 9 a.m. at the Country Club of Lincoln, 3200 S. 24th St. RSVP with Nichole Kaiser at 402-436-2355.
Category:
Omaha Daily Record
The Daily Record
3323 Leavenworth Street
Omaha, Nebraska
68105-1915
Tele (402) 345-1303
Fax (402) 345-2351