Attorney, Husker Fan Left His Mark as Wide as Prairie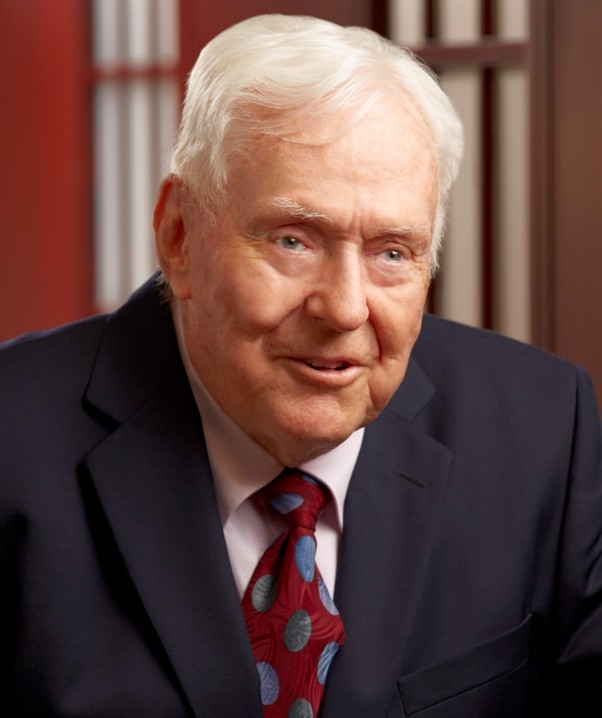 Dean G. Kratz
June 26, 1924 – July 30, 2019
If there is such a thing as a life well lived, that term must apply to Dean G. Kratz.
The longtime Omaha attorney died in late July at Josie Harper Hospice House at the age of 95. A memorial service was held Monday, Sept. 30, at Countryside Community Church.
A native of Sidney, Nebraska, Kratz was a four-sport athlete and academic standout in high school and continued to excel at the University of Nebraska-Lincoln, as a Big 6 champion in three middle distance events (440, 880 and mile) and was named a Track & Field All-American.
He graduated with honors in journalism in 1946 and moved on to Nebraska College of Law, where he met his wife of more than 60 years, Barbara. They graduated with honors in 1949 and were married that same year.
Kratz didn't leave Husker athletics when he left the campus, though. He served two terms as president of the University of Nebraska Touchdown Club, and he served the same role for three decades with the Big Red Breakfasts. He also helped establish Nebraska recruiting dinners.
Kratz received the Clarence Swanson Memorial Award by the Nebraska Football Hall of Fame among other recognitions.
Professionally, most of his more than six decades of legal practice in Nebraska was spent as a partner in the Omaha firm McGrath North Mullin & Kratz.
He also served four consecutive six-year terms as judge and chief judge on the Nebraska Court of Industrial Relations. Kratz was appointed by four different governors to that posi-tion. From 2005 to 2008 he served the Nebraska State Bar Foundation as its president and received its Foundation Award in 2014. A year earlier he earned the University of Nebraska Alumni Achievement Award.
His nephew, Omaha City Attorney Paul Kratz, said two things come to mind about his uncle.
"I think he was a very unique individual in that everything he did he was very successful at," the younger Kratz told The Daily Record. "Number two, he was always willing to help younger lawyers advance in the practice."
Paul Kratz recalled his uncle as being one of the first "very good" labor lawyers in the city, who practiced in that area dating back to the early 1950s. He recalled that Dean Kratz would negotiate contracts for the unions year in and year out, often with outstanding attorneys on the other side.
"They worked things out to good conclusion, which is the way that type of practice should be," he said.
Paul Kratz said he learned from the elder Kratz to be aggressive in what you do and to always help other people coming up in the legal profession. He remembered his uncle as an incredibly giving individual who was successful throughout his life.
"He was unique from that standpoint," Paul Kratz said.
Early in his career, Paul Kratz practiced "a lot" of labor law, so that influence was handed down. A bigger influence was learning the virtues of hard work and helping others come up with you.
He recalled how, beginning in 1961, Dean Kratz would invite a number of people to his home for Fourth of July fireworks. Those guests included a governor and several judges who we dispatched to discuss the concerns of the officers who inevitably responded to the then-illegal activity and smooth things over.
The activity ended in 2018, but in later years, Paul Kratz often handled the diplomatic duties. "It was a very good time," he said. "It was fun. Just a good time."
Dan Pape, a partner at McGrath North, is several decades younger than Dean Kratz but recalled joining the firm and becoming good friends with the veteran attorney.
"He was just a guy that was always very inviting and easy to talk to and very well versed on any number of subjects," Pape said. "Always had good judgement about pretty much any topic that could come up."
 Pape credited Kratz with setting a high bar in the area of labor law, an area that now employs at least eight lawyers at the firm. The veteran's work was held in high esteem by oth-ers, as well.
"The Best Lawyers in America is, in my opinion, the purest ranking program," Pape said. "This is lawyers judging lawyers, and Dan was in … every year since its inception. That's quite an accomplishment."
Pape also praised Kratz for being a good family man and a mentor. He praised the humility he demonstrated in showing respect to everyone in the firm despite being an established partner.
"He was always very appreciative," Pape said. "He was just a person that treated everybody with great respect, and he got that respect right back."
Dean Kratz held a lifelong fascination with the Nebraska Sand Hills and authored two books capturing his interest in that area. He also wrote "A Demonstration Course in Par-liamentary Procedure," which was published by the U.S. Chamber of Commerce.
 Kratz is survived by children Kathy Kratz (St. Paul, Minn.), Steve Kratz (Omaha), Annie Kratz (Santa Barbara, Calif.) and Tim Kratz (Denver); grandchil-dren Matison, Cole, and Gianna Kratz; sisters-in-law Betty Kratz (Omaha) and June Blackburn (Grand Island); nephew, Paul Kratz (Omaha); niece, Patti Zu-kaitis (Omaha); and other niec-es, nephews, grandnieces and grandnephews. He was preceded in death by parents Golden and Clara Kratz, wife Barbara Kratz and sibling Kent Kratz.
"Dean's family sends love and gratitude to the many wonderful colleagues, friends, and extended family who were fun for, important to, helpful to, and loving to Dad. You meant a great deal to Dean and contributed immensely to his joy in life and his longevity," the family said in an obituary from Kremer Funeral Home
Correspondence for the family can be sent via the funeral home.
– Andy Roberts
Category:
Omaha Daily Record
The Daily Record
3323 Leavenworth Street
Omaha, Nebraska
68105-1915
United States
Tele (402) 345-1303
Fax (402) 345-2351