After 22 Years Working at Creighton Law, She Earned Degree, Sang for Pope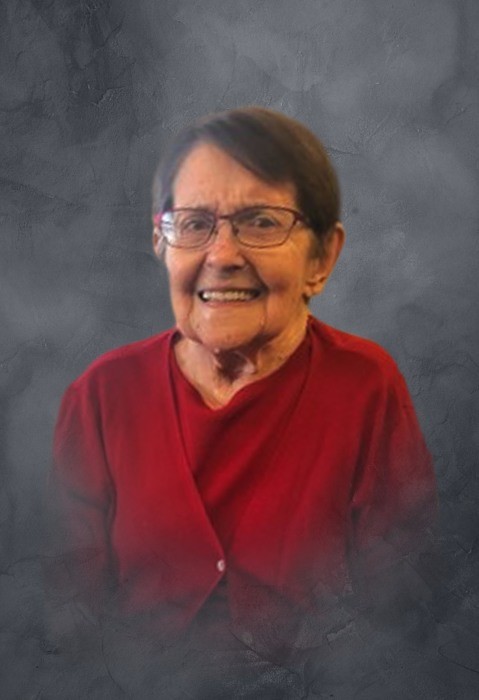 Maylow J. Phillips
Oct. 1, 1930 – April 16, 2020
Maylow Jeanne Berger (Peterson) Phillips graduated from Dunlap High School. Her first jobs were at the local movie theater and drugstore, as a "soda jerk." Maylow attended secretarial school in Omaha and worked as a legal secretary there, in San Francisco and in Newport Beach. She met her husband Robert ("Bob" or "Pete") J. Peterson at a USO dance. They were married in 1956 and welcomed their first daughter in April 1958. They purchased their first house in Canoga Park, California, in the San Fernando Valley in 1959. Maylow continued to work as a legal secretary, sometimes working from home, and raising their family, while her husband worked as an aerospace engineer in companies contracted with the NASA program.
Two more daughters joined the family in 1960 and 1962. In the fall of 1968, the family moved to Albion, California. Maylow and Bob ran a general store, Fireside Market, on Highway 1 in Albion from 1968 through 1974. She and Bob had their fourth daughter in 1970, after Maylow endured a two-hour winding car ride to a Santa Rosa hospital while in labor.
Maylow was known for her sense of humor and loved to laugh; she was also a loyal parent and friend and would be tenacious in pursuing her own goals and supporting those of her four daughters.
After Maylow and Bob Peterson divorced in 1974, she returned to Dunlap with her four daughters. Maylow began working for the Harrison County Extension service in Logan as the secretary in 1974 and moved her family to Logan the following year to be closer to work. In the summer of 1977, Maylow married Dr. Hugh Phillips, a professor in the Medical School of Creighton University. She moved to Omaha , but her marriage was short-lived; they separated and divorced the following year, but remained friends until he passed away several years later.
Maylow began work at Creighton Law School in 1977, as secretary of the law review. She enjoyed working with the energetic students and staff at the school. She was promoted to the Placement Office within the Law School and then to the placement coordinator position. She formed a close friendship with her boss, Sandy Murnan.
Maylow matched students with clerkships throughout the country. She traveled to visit many sites and also to attend the NALP conferences. She and friend Hattie Mullin, who also worked at the Law School, were known for extensive contributions of Christmas cookies at the annual cookie exchange. She retired in 1999, but she continued to be a driving force in the Greybackers association for Creighton. Maylow also took foreign language students from Japan into her home while they attended Creighton. She enjoyed having students in her home as well as the cultural exchanges.
While working full-time and still raising two daughters, Maylow began taking college classes for credit at Creighton. She completed her Bachelor of Arts in journalism at Creighton and graduated in 2009 at the age of 78.
St. Cecilia's Cathedral became Maylow's home parish to practice her faith. She was a gifted vocalist and piano and organ player. She traveled with the choir to Rome, Italy, where they met and sang for Pope John Paul II, which was a dream and cherished accomplishment for her. She worked as a principle organizer for the annual flower show put on by St. Cecilia's as a fundraiser. She booked musicians and performers and found families for them to stay with during their time in Omaha. This fundraiser was an integral part of funding the church and its activities. Maylow enjoyed midnight Christmas Eve mass and made a tradition with her daughters of attending this special celebration as often as possible.
Maylow's life was filled with family, gardening, cats, music, singing, art, travel and faith. She loved being out in her yard, planting flowers and also bird watching from her kitchen window.
– Fouts Funeral Home
Category:
Omaha Daily Record
The Daily Record
3323 Leavenworth Street
Omaha, Nebraska
68105-1915
United States
Tele (402) 345-1303
Fax (402) 345-2351