Abrahams Kaslow & Cassman Has Generations of Clients
The trip from 17th and Farnam to 90th and Dodge doesn't feel that far zipping along in today's modes of transportation. But when one considers where 90th and Dodge was when Abrahams Kaslow and Cassman LLP was founded 75 years ago, it marks quite a journey.
Abrahams Kaslow & Cassman is well known in Omaha for its work in corporate and business law, as well as in litigation, estate planning, trusts and probate, employment law, municipal law, energy law and related fields.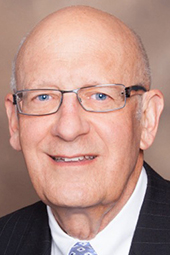 Howard J. Kaslow has watched the firm evolve over more than five decades.
"It's interesting to reflect on our history," Kaslow said. "The firm was started in 1944 by Milton Abrahams and my father, Ben Kaslow."
At that time, the firm was at a downtown location that's now home to the Woodmen Tower. When the skyscraper was built in the late '60s, the firm was among its occupants. It moved westward a few decades ago.
Kaslow joined the firm 55 years ago after completing his law degree at Yale University. He said the highlight of his legal career has been the opportunity to serve his clients.
"Some of them are the third generation of their families," Kaslow said. "What makes it really enjoyable is the ability to serve clients over continuing generations."
Abrahams Kaslow & Cassman has steadily grown over the years, and it currently employs 15 attorneys. Kaslow stated the firm looks for attorneys with a good academic record or who have worked in comparable positions at another firm.
"Many of our attorneys have started with us as law clerks," he said. "That gives us a chance to get to really know people."
Among the firm's clients are some of the region's most notable companies across a wide spectrum of American business, such as Borsheim Jewelry Co., Catholic Health Initiatives, Godfather's Pizza, N.P. Dodge Real Estate, Sprint PCS and the Weitz Co., just to name a few. These long-standing, household names have helped Abrahams Kaslow & Cassman grow firm roots as well during the course of seven and a half decades.
The firm's range of clients adds to the pleasure of doing legal work, Kaslow said, as does having a large bench of talented attorneys.
"Because we have attorneys who have expertise is many areas, we're able to handle a client's needs in many areas," he said, typically avoiding the need to bring in outside counsel.
Fortunately, Omaha's legal environment has a refreshing level of professionalism for what can be a confrontational occupation; Kaslow said he has found that Omaha attorneys generally show a good deal of courtesy toward each other in conducting their business.
"I always feel I can call colleagues in other firms and ask their advice," Kaslow said.
Fifty-five years into his career, Kaslow said he continues to be motivated by his work.
"Getting it done right, getting it done well and having it succeed are the rewards of the practice," Kaslow said.
That's what clients are looking for, too.
One of those clients, Leo Timmerman-Sons Feeding Co. Inc. of Springfield, has turned to the law firm for a half century. Jim Timmerman, a son of founder Leo Timmerman, said Abrahams Kaslow & Cassman gets the first call whenever legal advice is needed.
"They've always done excellent work for us," Timmerman said.
Brad Noel, chief financial officer of Norfolk Iron & Metal, a family-owned, full-line carbon steel service center in Norfolk, had high praise for Abrahams Kaslow & Cassman as well.
"Where many lawyers make a simple transaction complex, Howard and his lawyers make a complex transaction simple," Noel said. "That's refreshing in our minds."
Kaslow said the firm is proud of its record, and he hopes to continue to build his own legacy in estate planning and corporate transactions.
"I'm not ready to retire yet," Kaslow said. "I enjoy the work."
Find more about law firm at akclaw.com.
Category:
Omaha Daily Record
The Daily Record
3323 Leavenworth Street
Omaha, Nebraska
68105-1915
United States
Tele (402) 345-1303
Fax (402) 345-2351