About the 2018 Law Day Theme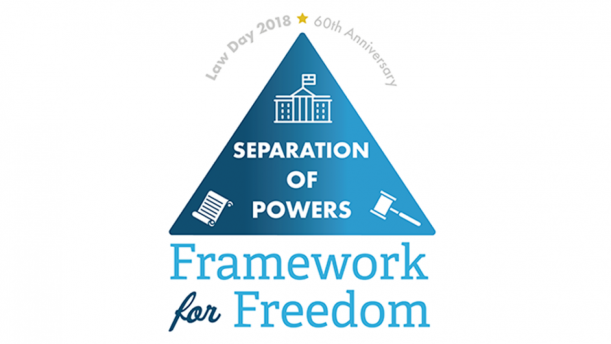 This year's May 1 Law Day theme is one that represents the bedrock of our democracy: "Separation of Powers: Framework for Freedom."
The U.S. Constitution defines our government as one with distinct and independent branche – the President, Congress and the Supreme Court. These three separate branches share power and each branch serves as a check on the power of the others.
"Ambition must be made to counteract ambition," James Madison explained in Federalist 51. Why? Madison believed that the Constitution's principles of separation of powers and checks and balances preserved political liberty. They provided a framework for freedom.
The topics we have chosen to explore in this issue were prompted by published lists of concerns about what the future holds for our democracy. They are important because our framework must be preserved and defended in order to keep our nation free.
Today's news is full of concerns about overreach of power by the three branches. The outcomes affect us all and not in small ways. Here, we offer experts' insights into some of these concerns in our featured stories.
Omaha Daily Record
The Daily Record
3323 Leavenworth Street
Omaha, Nebraska
68105-1915
United States
Tele (402) 345-1303
Fax (402) 345-2351