A 'Terrific Mentor,' 'Teddy Roosevelt' Democrat, Friend to All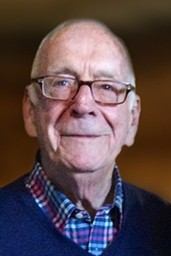 Frank J. Barrett
March 2, 1932 – Oct. 13, 2019
Frank Barrett was an Irishman from Nebraska.
Which, in his case, said a lot.
Born of the rich Nebraska soil of Greeley, one of the state's Irish capitals, he sowed joy as he moved about his home state for more than eight decades. During that time, he became a lawyer, a husband, raised a family, advised many lawmakers and opened the Irish bar that bears his name.
His bar, Barrett's Barleycorn, is the kind of place that makes you feel instantly at home. Frank Barrett liked that. 
Barrett, 87, died Oct. 13 after a fall at his home four days earlier.
His impact on others was obvious as people packed St. Robert Bellarmine Catholic Church for his visitation.
Barrett was a Democrat who knew how to work with Republicans and, by all accounts, called many GOPers his friend. He earned undergraduate and law degrees from the University of Nebraska and went on to make his mark in law and politics, often providing his sage prairie wisdom to those who sought his counsel.
Attorney Larry Harr of Lamson Dugan & Murray LLP worked with Barrett over the years, first joining him in the state insurance department and practicing with him beginning in 1999 at the firm.
Harr recalled Barrett's legal work as primarily insurance related, including work on many insurance arbitrations.
"They were generally multi-million-dollar issues," Harr said. "They involved disputes between insurers and re-insurers."
The two had known each other since they were young men.
"He combined intellectual strength with common sense," Harr said. "He was an outstanding speaker and writer. He had a commanding presence."
Harr recalled how his old friend brought "a warm and welcoming personality" that accompanied all his skills.
"As an insurance lawyer, he had a national reputation," Harr said. "He was well known for what he had done and what he could do for clients."
Another long-time friend, former Democratic Nebraska governor and U.S. Sen. Ben Nelson, recalled how Barrett was the state insurance director in October 1965 when he hired Nelson, a recent University of Nebraska College of Law graduate, for a job regulating insurance agents.
Seven years later, Barrett hired Nelson as assistant general counsel for Central National Insurance Co. in Omaha.
"He hired me for my first two jobs," Nelson said.
Barrett had a great touch in how he worked with people.
"He was a terrific mentor because he was interested in the work he was doing as insurance director and he was interested in teaching," Nelson said. "I learned a great deal from him. He was a great boss."
Over the years their friendship continued, with the teacher giving the student some of his best political advice.
"Stick to your principals," Nelson recalled. "That was probably the single most important piece of advice."
Nelson said he truly appreciated Barrett's great sense of humor and his compassion.
"Some people are more unique than others," Nelson said. "He would fit that category. Both as a person and as a lawyer."
Nelson said Barrett was an easy leader to follow.
"His leadership skills were among the best I've ever seen," Nelson said. "He was everybody's friend. I've never known anyone to have a more diverse group of friends in my life."
Barrett called himself "a Teddy Roosevelt Democrat," Nelson said, and stressed that his mentor made friends across the aisle.
If you knew Barrett, you know family was extremely important to him. His eldest son, Patrick, followed in his legal footsteps and is an attorney in Omaha with Fraser Stryker PC LLO.
The younger Barrett said they are a family of lawyers, Frank Barrett's father was the Greeley County attorney, and the family has viewed the profession as one that carried certain obligations and responsibilities.
"He always had time to help people with legal issues when they needed someone in their corner. He taught, however, mostly by example," Patrick Barrett said. "I learned how to be a professional and how to treat others."
Those lessons, he said, have served him well in legal practice. 
"Your word must be inviolate," he said. "Every person or party in a case deserves your respect."
Patrick Barrett said his father also taught him that you don't take advantage of people and to conduct yourself in a way that never embarrasses you or your client.
"He used to say that it takes a lifetime to build a reputation and five minutes to destroy it," he said. "These are great lessons for all lawyers." 
In addition to Patrick Barrett, survivors include another son, Thomas, and daughters Mary, Anne and Karen.
A message from Barrett on the program from his visitation and funeral provided some closure.
"Family and friends are one's most precious assets, rich indeed is a person who has the good fortune of having both who truly care," the program read. "I'll see you soon, God bless."
– Andy Roberts
Category:
Omaha Daily Record
The Daily Record
3323 Leavenworth Street
Omaha, Nebraska
68105-1915
United States
Tele (402) 345-1303
Fax (402) 345-2351