Iowa Judicial Branch Mourns Passing of Chief Justice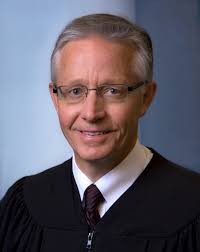 Mark Cady
July 12, 1953 – Nov. 15, 2019
The Iowa Judicial Branch is saddened to report that Iowa Supreme Court Chief Justice Mark Cady has passed away.
He was a wonderful individual and exceptional judge, respected and beloved by his fellow jurists. His passing is a great loss to the court and the state he so loyally served. We extend our deepest condolences to his wife Becky and his family.
 "Tonight, the state lost a great man, husband, father, grandfather, and jurist. Chief Justice Mark Cady passed away unexpectedly this evening from a heart attack," his family said in a statement released last Saturday.
Chief Justice Cady of Fort Dodge was appointed to the Iowa Supreme Court in 1998. The members of the court selected him as chief justice in 2011.
Born in Rapid City, South Dakota, Chief Justice Cady earned both his undergraduate and law degrees from Drake University. 
After graduating from law school in 1978, he served as a judicial law clerk for the Second Judicial District for one year. He was then appointed as an assistant Webster County attorney and practiced with a law firm in Fort Dodge. Cady was appointed a district associate judge in 1983 and a district court judge in 1986. In 1994, he was appointed to the Iowa Court of Appeals. He was elected chief judge of the court of appeals in 1997 and served until his appointment to the Iowa Supreme Court.
Cady is a member of the Order of Coif, the Iowa State Bar Association, the American Bar Association, the Iowa Judges Association, and Iowa Academy of Trial Lawyers (honorary). He also served as chair of the Supreme Court's Task Force on the Court's and Communities' Response to Domestic Abuse and is a member of the Drake Law School Board of Counselors.
Cady is chair of the Nation Center for State Courts Board of Directors and president of the Conference of Chief Justices. He also serves on the Board of Directors, and chairs its Committee on Courts, Children, and Families, and the Committee on Judicial Selection and Compensation. He is the coauthor of "Preserving the Delicate Balance Between Judicial Accountability and Independence:  Merit Selection in the Post-White World," (16 Cornell J.L. and Pub. Pol'y 101 2008) and of "Iowa Practice:  Lawyer and Judicial Ethics" (Thomson-West 2007). He is the author of "Curbing Litigation Abuse and Misuse:  A Judicial Approach" (36 Drake L. Rev. 481 1987), "The Vanguard of Equality: The Iowa Supreme Court's Journey to Stay Ahead of the Curve on an Arc Bending Towards Justice" (76 Alb. L. Rev. 1991 2013), and "Reflections on Clark v. Board of School Directors, 150 Years Later" (67 Drake L. Rev. 23 2019).
Cady also delivered remarks at the 2012 Drake Law School Constitutional Law Symposium, The Iowa Judiciary, Funding, and the Poor (60 Drake L. Rev. 1127 (2012) and presented the inaugural Drake Law School Iowa Constitution Lecture, "A Pioneer's Constitution: How Iowa's Constitutional History Uniquely Shapes Our Pioneering Tradition in Recognizing Civil Rights and Civil Liberties" (60 Drake L. Rev. 1133 (2012).
Cady was an adjunct faculty member at Buena Vista University for more than 30 years and served on its President's Advisory Council. In 2012 he received an honorary doctorate in public service from Buena Vista University.
Cady received the Award of Merit from the Iowa Judges Association in 2015. He received the Outstanding Alumnus Award from Drake University Law School in 2011. He received the Alumni Achievement Award from Drake University in 2012 and the Judicial Achievement Award from the Iowa Association for Justice in 2016. Cady is also the Iowa chair of iCivics Inc.
Cady is married with two children and four grandchildren.
– Iowa Judicial Branch
Category:
Omaha Daily Record
The Daily Record
3323 Leavenworth Street
Omaha, Nebraska
68105-1915
United States
Tele (402) 345-1303
Fax (402) 345-2351