Dedicated Servant Had Extraordinary Life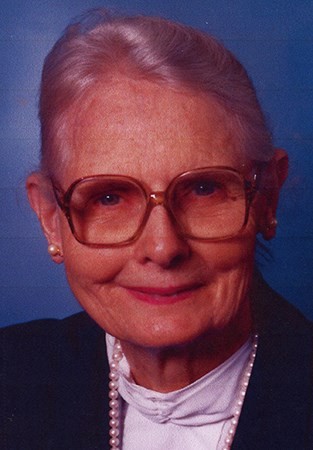 Eileen Hansen
February 15, 1924 — April 16, 2021
Omaha attorney Eileen Hansen, who grew up on a farm in Hampton, worked at the Pentagon, and had a legal career that spanned more than 40 years, died last month. She was 97.
Hansen specialized in guardianship and conservatorship law and assisted countless people throughout her career, many of whom were veterans. Her brother fought in the Korean War and she had a special affinity for the men and women who returned home after fighting in America's wars.
Hansen represented so many clients that not a day went by that former Douglas County Judge Stephen Swartz didn't see her in probate court when it was his turn on the bench.
"She was probably the most frequent visitor to the third floor," Swartz said in an interview with The Daily Record. "She was probably there almost each of my probate days each month and I would assume that would be true with respect to most of the other judges. I wouldn't be a bit surprised if some weeks she was up there five days a week."
Swartz, who served as a Douglas County judge from 1987 to 2011, even remembers frequently seeing her at the courthouse even before his appointment to the bench.
"When I was in private practice, in the '70s and '80s, she was up there seemingly all the time anyway," Swartz said.
Hansen was born in Aurora in 1924 and grew up on a farm with her parents and two brothers. When she graduated high school, her family couldn't afford to send her to college. By sheer luck, a representative from the Grand Island College of Business visited Hampton to recruit local students and he offered to loan her tuition money if she wanted to enroll.
At the now-defunct business school, Hansen learned basic office skills like typing and taking dictation. After graduation, she took the civil service exam and moved to Washington D.C.
Over 30 years, Hansen worked at the Navy Bureau of Ships, the National Bureau of Standards and the Pentagon, where she was the only woman who worked in her department. While at the Bureau of Standards, Hansen furthered her education by obtaining a bachelor's degree in public administration, followed by a law degree from American University College of Law. When she passed the bar exam, Hansen took her oath before Supreme Court Chief Justice Warren Burger.
Hansen returned to Nebraska in 1972 to be closer to her aging parents and formed a law office with Omaha attorney Wilbur Smith. Unfortunately, Smith died shortly thereafter, but Hansen kept his name on the shingle at Smith and Hansen for the entirety of her career.
Hansen never retired, spending almost the next 50 years practicing guardianship and conservatorship law. Age never slowed her down either.
Well into her 90s, Hansen still drove herself to work Monday through Friday, arriving at her office at 1904 Farnam St. shortly before 7 a.m.
"Every weekday morning at 6:45 I would go down to the lobby of the Service Life Building to wait for Eileen," said Naomi Wellman, a legal secretary at another law office in the building. "She was incredibly prompt."
Hansen would park her car — she drove a stick-shift — and Wellman would meet her at her car.
"She always had two bags she would hand me and I would take them and walk her in the doors and up the elevator to her sixth floor office," Wellman said.
When she wasn't practicing law, Hansen spent time at her farm near Hampton, driving nearly 120 miles every Friday afternoon before returning to Omaha on Sunday. Before she reached her farmhouse, Hansen would stop every Friday evening to chat with her neighbor, Deryl Hilligas, and his wife.
"She would always stop at our place when she came out and just kind of find out how the week went and everything," Hilligas said. "And if she wasn't gonna come out, she'd always call and let us know that she wasn't gonna be out that weekend."
Hilligas remembers Hansen as a no-nonsense kind of woman.
"She was very to the point and we always found her interesting and funny," Hilligas said. "But when she was done talking, it was, 'cheers to the day,' and she was gone."
Swartz also remembers Hansen as a steadfast protector of her wards.
"She would battle for her clients, but she never let the battle control her behavior," Swartz said. "She never lost control of her poise. She was always very gracious, very polite. She would be the kind of lawyer that most judges would welcome to appear in their courtroom."
Both Swartz and Hilligas applauded Hansen's commitment to the people she helped, often taking on new clients for little or no money.
"I would not hesitate to rank her number one in the cheapest rates in the whole city," Swartz said. "She never charged anybody anything, and understandably so, because most of the people that she represented in those matters were not flush by any means."
"She was such a giving person," Hilligas said. "All the work she did for her wards and veterans, a lot of that was done pro bono. She was a dedicated person to the veterans and to her country."
The Daily Record wrote a profile of Hansen in 2014, which is linked below. Memorials may be made to Open Door Mission, Wounded Warriors Family Support or St. Andrews Episcopal Church.
Category:
Omaha Daily Record
The Daily Record
3323 Leavenworth Street
Omaha, Nebraska
68105-1915
United States
Tele (402) 345-1303
Fax (402) 345-2351