Buescher Wins Senate Confirmation to Join Federal Bench in Omaha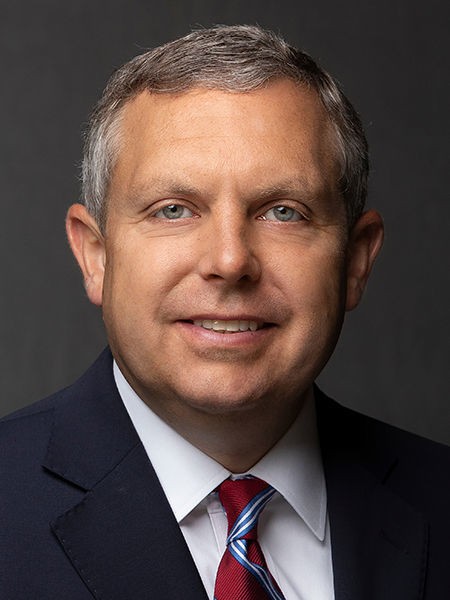 Omaha attorney Brian C. Buescher won Senate confirmation last Wednesday and will become a member of the federal judiciary.
President Donald Trump had nominated Buescher, an attorney at Kutak Rock, as a judge for the U.S. District Court for the District of Nebraska, back in November.
"It is a tremendous honor to serve on the bench for the District of Nebraska," Buescher said in a news release from Kutak Rock.
Buescher will begin his duties once Trump signs his judicial commission and his oath of office is administered, which is expected to take place in a few weeks. A formal investiture ceremony will be held at a later date, according to a news release on behalf of the federal district court in Omaha.
"The judges of the U.S. District Court for the District of Nebraska welcome our newest colleague," Chief Judge John Gerrard said in the release. "Brian Buescher's distinguished career and his long history of public service ensure he will be an outstanding addition to Nebraska's federal bench."
Buescher's confirmation wasn't all smooth sailing. He was opposed by Democrats, and he received confirmation on a 51-40 vote split along party lines.
Additionally, during the confirmation process, Buescher faced questions about his conservative views and his membership in the Knights of Columbus, a Catholic fraternal organization.
Nebraska Sens. Ben Sasse and Deb Fischer both said those questions reflected anti-Catholic bigotry and compared the questions about the Knights of Columbus to the anti-Catholic prejudice faced by President John F. Kennedy.
"The implication in these questions is really straightforward: It is that Brian's religious beliefs, and his affiliation with his Catholic religious fraternal organization, might make him unfit for service. Let's put it bluntly. This was plain, unadulterated anti-Catholic bigotry," Sasse said in floor remarks.
Opponents of his confirmation believe Buescher has shown hostility toward women's reproductive freedom and LGBT equality, and they alleged that he's too closely associated with the Republican Party – where he's held numerous leadership roles, as well as an unsuccessful campaign to be Nebraska attorney general in 2014 – to be regarded as ideologically impartial.
"Judicial nominees who demonstrate fidelity to the Republican party over the Constitution should be rejected – not rewarded," Kristine Lucius, executive vice president for policy and government affairs at The Leadership Conference on Civil and Human Rights, said in a statement. "The Senate must protect our courts. When they do not, the American public, and our justice system, will only continue to lose."
Supporters of Buescher's confirmation argue that he's clearly qualified, is well regarded within the legal community, and is a man of the highest character.
"Nebraska is the proud home of many brilliant legal minds, and we thoroughly studied every application and interviewed qualified candidates," Fischer said in floor remarks prior to the vote. "By all accounts, Brian Buescher has enthusiastic support in Nebraska for his superb legal work and fair-minded disposition."
Buescher has worked in private practice for 19 years at Kutak Rock's Omaha office, where he leads the firm's agribusiness litigation team and represented local and national clients in general commercial litigation.
"Brian's success as a counselor to our clients, extensive litigation experience and commitment to public service has prepared him to be an outstanding judge," said Mike Curry, managing partner of Kutak Rock's Omaha office. "He will serve the people of Nebraska well. We will miss working with him on a daily basis, but he will always be our friend and colleague.
"We congratulate him on this momentous occasion."
Buescher's spot on the federal bench was created by Judge Laurie Smith Camp's transition to senior status in 2018.
"We are grateful to Nebraska's senators for ensuring that Nebraska's federal court has the resources needed to provide timely access to justice for all the people it serves," Gerrard said.
Buescher has experience in a variety of areas, including agribusiness, environmental, food law, real estate, product liability, class action, banking and insurance bad faith litigation.
He has litigated cases in a variety of jurisdictions, including Nebraska and Iowa state and federal courts, the U.S. Court of Federal Claims, U.S. Bankruptcy Court for the District of Nebraska, and numerous other state and federal courts.
He has served as the chair of the Nebraska State Bar Association's Agricultural and Environmental Law Sections. He is also an active member of the Omaha community, serving on the board of the Downtown YMCA.
He is a graduate of the University of Nebraska-Lincoln and earned his J.D. from Georgetown University Law Center.
Nebraska Gov. Pete Ricketts congratulated Buescher for his successful confirmation.
"The U.S. Senate has wisely affirmed President Trump's selection of an incredibly talented legal expert to serve in the federal judiciary," Ricketts said in a statement. "Brian has the temperament to be a great judge and will approach each case he is given with a fair and open mind."
Category:
Omaha Daily Record
The Daily Record
3323 Leavenworth Street
Omaha, Nebraska
68105-1915
United States
Tele (402) 345-1303
Fax (402) 345-2351